Coronavirus advice for farm and ambulatory equine vets
Veterinary professionals have worked tirelessly and in line with the UK government's advice to look after the health and welfare of the nation's animals, and to try and keep their teams, clients and themselves safe. As farm animal vets, you have had the added task of maintaining the food supply chain. We applaud the work that you and Official Veterinarians (OVs) have done in maintaining the continuity and safety of the food supply chain whilst upholding standards of animal health and welfare, even when lockdown was at its tightest.
Although veterinary professionals and practices continue to provide as full a range of services as possible, It is essential that the way in which we work is provided in a manner that supports social/physical distancing and good hygiene and biosecurity.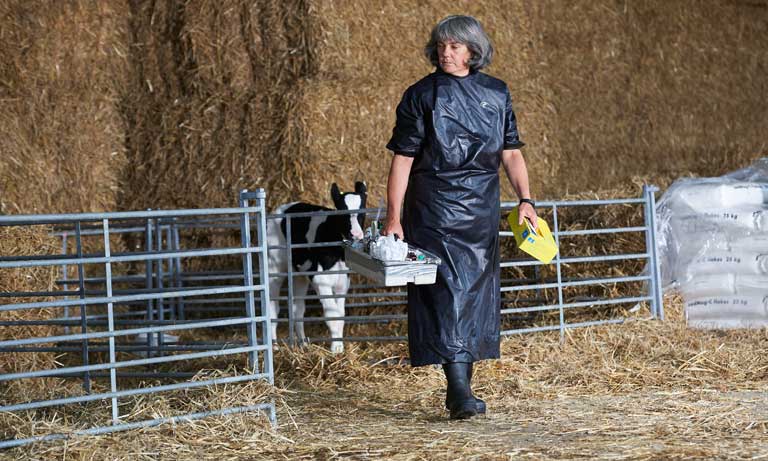 Updated guidance on working safely during Covid-19
We're encouraging practices to follow RCVS recovery guidance and BVA guidance on working safely as lockdown restrictions are eased.
Please note: This advice is intended as guidance only. Veterinary practices will vary in their approach due to individual circumstances. Veterinary professionals must also continue to exercise their own clinical judgement in risk assessing cases.
Farm and yard work are varied and present different challenges
We appreciate that the varied nature of farm and ambulatory large animal work means that what might be appropriate for one situation, is not for another. We have tried to provide some general pointers for farm vets, equine vets and Official Veterinarians (OVs) as well as sign posting to some useful resources from our specialist species colleagues.
Using your skills and expertise to judge each scenario and making sure that you are maintaining social distancing measures will go a long way in upholding standards of animal health and welfare on farm but also making safe decisions for yourself and your clients.
It is important in reading this guidance to consider (alongside safety measures to try and curb spread of Covid-19) that all of your usual risk assessments about biosecurity and working safely with farm animals should continue as normal. Any decisions made regarding human health protection with regards to Covid-19 should be in addition to, and not jeopardise any of these judgements.
Veterinary teams must insist on strict social distancing measures at all times but it is also important to remember that there will be occasions when social distancing and/or isolation is not achievable. In these cases, it is essential that a risk assessment is undertaken and a plan put in place to work as safely as possible.
Risk assess and plan ahead for farm and yard visits
Maintain safe working practices around large animals and consider taking a second member of practice staff to assist
If two members of staff must travel to a site, consider travelling in separate vehicles or fixed pairings
Use a consistent pairing or team system
Clarify the client's medical status with regard to Covid-19 before booking appointments
Make sure your client understands the social distancing measures you will be putting in place and knows how you intend to work
In cases where clients are self isolating or confirmed to have Covid-19, they should not be involved in the visit at all
Where possible, examine animals outside in the open air, rather than in an enclosed airspace
Maintain a physical distance of 2m from other people as much as possible
Due to the highly transmissible nature of the new Covid-19 virus strain, make sure you are redoubling your biosecurity practices. This includes wearing clean protective clothing and disinfecting between clients as normal.
Consider sedating animals needing treatment or investigation where appropriate, especially if this helps maintain the 2m physical distance from the handler
Minimise contact with the client, and where face-to-face interaction is required, this should only be with one person per visit
Do not enter the farmhouse or any other residential area for any reason and do not accept any drinks or food
Make sure no one else has contact with or enters your vehicle during the visit (for example to collect equipment) and, where possible, park away from the area of main activity.
Read our specific guidance on vehicle sharing (below)
Use a cloth face mask or covering and consider asking the client to do the same
Use technology to triage and consult whenever possible and appropriate
Read our guidance on working safely during Covid-19 in full
Minimise the risks of vehicle sharing
Avoid multiple occupancy vehicles if possible. If more than one person needs to travel to a client, the following should be encouraged:
Use a fixed pairing system – journeys should be with the same individuals and limited in the number of people travelling per vehicle.
Maximise space between occupants, for example sitting in diagonally opposite seats. Wear a face covering and maintain good ventilation, for example, by keeping windows open and passengers facing away from one another to reduce risk of transmission.
Vehicles should be regularly cleaned using standard cleaning products, with emphasis on handles and other areas where passengers may touch surfaces. Wash hands before getting into the vehicle and on arrival at the visit. Keep hand sanitiser/wipes within vehicles to clean hands after each visit.
Options for remote prescribing
During this challenging period, we know that the farm vet community has progressed its approach to remote consultation and has been championing this way of working when required.
The RCVS Council's temporary departure from the Code of Professional Conduct for Veterinary Surgeons prohibiting prescription of veterinary medicines (POM-Vs) without a physical examination of the animal(s), will continue to be reviewed on an ongoing basis. Vets can continue to remotely prescribe prescription-only veterinary medicines, but only where there is no suitable alterative.
Call ahead
Always call your client ahead of any appointment or meeting to make sure that they understand the order of procedures and social distancing measures that you will be putting in place.
Further information
Read our BVA guidance on working safely as lockdown restrictions are eased.
For further advice and guidance see also the 'Covid-19 Secure' guidelines on working outdoors (applicability is England only but the generic advice may be useful across the UK)
Guidance for Farmers: 
TB Testing
OVs can continue with bTB testing across Great Britain, but only if it can be carried out safely under guidance relating to the Covid-19 pandemic. All vets must consider if social distancing can be maintained, and if it cannot the test should not be undertaken. APHA released TB testing briefing notes covering England, Wales and Scotland. Your respective briefing note is to be read in conjunction with briefing notes 06/20 and 07/20. OVs in Great Britain should keep up-to-date on APHA OV Briefing Notes.
In England and Wales, a temporary amendment to the TB testing instructions is in place retrospectively from 23 March 2020 until further notice. Calves under 180 days old at the start of a routine or targeted herd surveillance TB test can be excluded from skin testing in officially TB free (OTF) herds if, in the vet's judgement, they can't be tested safely in line with social distancing. This temporary amendment will be applied retrospectively to incomplete tests where the final part of the test would have commenced on or after 23 March 2020, and to any qualifying tests from now on until further notice. It will be kept under regular review while the social distancing measures related to the COVID-19 outbreak are in place.
For herds in England and Wales whose Officially TB Free status has been suspended (OTFS) or withdrawn (OTFW), a temporary amendment will allow further herd testing to be scheduled even though some or all eligible calves under 180 days old have not been tested. When eligible animals under 180 days old have been excluded from a test due to the requirement to maintain social distancing, the test will be considered a Check test and further Short Interval testing will be scheduled.
In Northern Ireland, from 1 December 2020, movement restrictions relating to overdue bTB tests returned to being applied seven days after the test is overdue.  From 5 January 2021 herds with a bTB test that is 37 days overdue are no longer permitted to purchase new bovines or move cattle to slaughter.  To facilitate social distancing during a bTB test, calves under 180 days of age continue to be temporarily exempt from bTB testing, where testing these bovines cannot take place safely.  Follow the DAERA Q&A page for updates for Northern Ireland.
In Scotland, normal TB testing procedures still apply. If it's not possible to safely TB test calves whilst maintaining social distancing, the vet must record this on the test chart and the test will be incomplete. If the test is not completed within the testing window, then the whole test will become overdue.
For further information, please visit TB Hub
Cattle: BCVA guidance
Goats: Goat Vet Soc guidance 
Equine: BEVA guidance 
Sheep: Sheep Vet Soc website, National Sheep Association news
Poultry: BVPA updates or via email
Pigs: Pig Vet Soc website and NPA Covid-19 message
Bees: The British Bee Keepers Association guidance
Deer: If (farm) vets would appreciate some advice about farmed deer from the Vet Deer Society then they are welcome to contact the VDS committee via email.
This resource has been produced in conjunction with a number of our veterinary specialist divisions. A thank you to:
British Cattle Veterinary Association (BCVA)
Goat Veterinary Society (GVS)
Sheep Veterinary Society (SVS)
Pig Veterinary Society (PVS)
British Veterinary Poultry Association (BVPA)
Vet Deer Society (VDR)
Veterinary Public Health Association (VPHA)
Association of Government Vets (AGV)