Coronavirus advice for veterinary professionals
Veterinary services during Covid-19 
Throughout the Covid-19 crisis veterinary professionals have been able to work, in line with the UK government's advice to business. Initially, this work was limited to urgent and emergency services, and services to maintain the food supply chain. Practices then transitioned to providing services that are essential for animal health and welfare or public health, including to relieve pain and suffering.
As the UK begins to ease lockdown restrictions, veterinary practices will begin transitioning to providing as full a range of services as possible, whilst working safely. This does not mean a return to pre-Covid 'business as usual' ways of working. 
All veterinary services must be provided in a manner that supports social/physical distancing and good hygiene and biosecurity. 
Updated guidance on working safely during Covid-19
We've developed a guide for vets in clinical practice to help you and your team to work safely during Covid-19. This replaces previous guidance on assessing essential veterinary care and supports practices to start transitioning to providing as full a range of services as possible, whilst working safely and within government guidelines.
Please note: This advice is intended as guidance only. Veterinary practices will vary in their approach due to individual circumstances. Veterinary professionals must also continue to exercise their own clinical judgement in risk assessing cases.
Download guidance on working safely
You can access previous guidance for veterinary professionals:
Frequently asked questions
We've been responding to questions from veterinary professionals and members of the public throughout the Covid-19 crisis. 
Webinars - Covid-19 and the veterinary profession
We ran a programme of webinars, in partnership with The Webinar Vet, to help keep you up-to-date on the restrictions, what they mean for veterinary work, and our lobbying efforts to secure support for veterinary businesses. The sessions also provideded an opportunity for you ask your questions direct to our President, Daniella Dos Santos.
Access previous webinars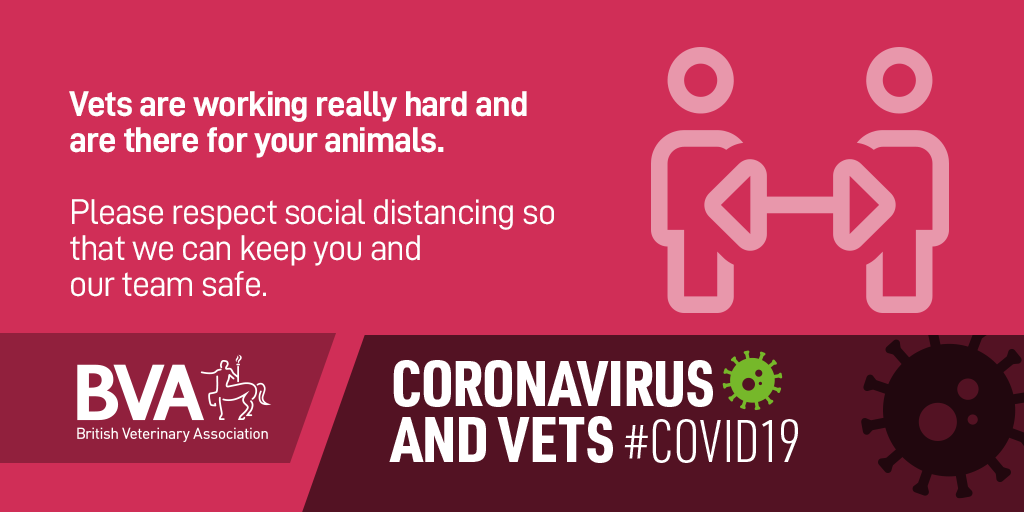 Resources for veterinary practices
Resources for veterinary practices 
Download our social media graphics and poster to help you communicate the key Covid-19 messages to your clients. 
Download Coronavirus Resources
Contact tracing across the UK
The four nations of the UK have launched contact tracing programmes. 
Employees in self-isolation are entitled to Statutory Sick Pay for every day they are in isolation, as long as they meet the eligibility conditions.
In response to our lobbying, Public Health England has now updated its advice so that veterinary professionals who take all appropriate precautions and who wear appropriate PPE when working together will not be considered as 'contacts' and will not be asked to self-isolate. 
This means that you should:
Continue to work in dedicated small teams and pairs and practise social and physical distancing as much as possible.
Continue to use all resources, including PPE, prudently. However, we recognise that the immediate urgency around reserving supplies for human healthcare has now eased as supply chains have caught up.
Each veterinary practice should carry out its own risk assessment in relation to use of PPE, the impact of test and trace, and ways of working. PHE expects most veterinary professionals would not be wearing full PPE and in these cases individuals would be asked to self-isolate. Where this would cause a significant impact on the provision of veterinary services, for example in rural/remote areas, and could impact animal health and welfare local PHE teams can carry out a risk assessment.
If you (or a member of your team) test positive for Covid-19 and you are contacted by a contact trace call handler, provide full details about your PPE.
If a client or a contact outside your workplace names you as a contact, you may still need to self-isolate, as you won't know who identified you due to confidentiality.
In the event that self-isolation is required and would lead to a major problem with the provision of veterinary services in your area, contact your local PHE Health Protection Team to discuss it.
BVA is not advising veterinary professionals to routinely use more PPE than they normally would and it should be based on the practice's own risk assessments.  We advise anyone who tests positive to provide details to the call handler about the PPE they were using when they were in contact with others.
Social distancing, hand hygiene and biosecurity are all key aspects of disease control and use of PPE should not be used as a substitute for these measures.  Any use of PPE must therefore also be accompanied by ongoing social and physical distancing (as far as possible), hand hygiene, and good biosecurity
Read our blog PHE's clarification on PPE use and contact tracing: What it means for you by BVA President, Daniella Dos Santos
Face coverings
Clients must also by law, wear a face covering in veterinary practices in England, Scotland and Wales unless they are exempt for age, health, or equality reasons. Premises where face coverings are required are encouraged to take reasonable steps to promote compliance with the law and could refuse entry to anyone who does not have a valid exemption, however, there is not an expectation that veterinary practices should police the law, and you should be mindful that some people may not be able to wear a face covering for various reasons. 
In Northern Ireland, the use of face coverings is mandatory on public transport only. It is strongly advised that you should think about using face coverings in circumstances - short periods in enclosed spaces - where social distancing is not possible.
In Northern Ireland, veterinary practices may want to consider the following:
asking staff to wear cloth face coverings when not using surgical masks for specific tasks (eg surgery and chemotherapy) – this can help to model good behaviour and is a reminder that we are not working as normal.
asking clients to wear cloth face coverings when entering a practice, for example attending a euthanasia. This should be discussed during the triage and appointment booking process.
Supporting you
The BVA legal helpline is available to all members with any questions about the impact of Covid-19 on your business or employment rights. You may also want to take a look at the helpline Coronavirus FAQs.
Lloyd & Whyte is available to all members for professional insurance and financial advice. Read their advice on insurance and Covid-19
Vetlife is available 24/7 to support you if you are feeling worried or anxious, via their website or 0303 040 2551. Support is also available via Vet Support NI and Vet Support Scotland.
Changes to RSPCA out-of-hours
RSPCA have made temporary changes to their out-of-hours provision, which may have an impact on veterinary professionals. Full details of these changes, what impact they may have on vets, and who you can contact at RSPCA are available for members to view in this resource.
Coronavirus and animals
There have been a number of reports of dogs, mink and cats (both domestic and large) testing positive for SARS-Cov-2.
The OIE states that now SARS-Cov-2 infections are widely distributed in the human population, there is a possibility for certain animal species to become infected through close contact with infected humans.
Although several animal species have been infected with SARS-Cov-2, these infections are not a driver of the Covid-19 pandemic; the pandemic is driven by human to human transmission. Studies are underway to better understand the susceptibility of different animal species to SARS-Cov-2 and to assess infection dynamics in susceptible animal species.
However it is important to recognise that there is no evidence to suggest that animals that have been infected by humans are playing a role in the spread of Covid-19 back to humans.  
If a pet animal is presenting with clinical signs, you should continue to pursue symptomatic treatment for clinical signs as normal and test for common respiratory pathogens.
The virus responsible for Covid-19 was detected in a pet cat in England in July, the first such known case in the UK, following tests at the APHA laboratory in Weybridge. The government has emphasised that all available evidence suggests that the cat contracted the coronavirus from its owners, who had previously tested positive for Covid-19. The cat and its owners have since made a full recovery and no other animals or people in the household were affected. Read our statement.
It is also the case that animals may act as fomites, as the virus could be on their fur for a short period of time in the same way it is on other surfaces, such as tables and doorknobs. That's why our main advice for animal owners continues to be to practise good hand hygiene by washing their hands thoroughly (for 20 seconds with soap and water) after touching their pet. Vets should continue to take the usual precautions when handling animals and animal products in line with good biosecurity protocols.
More detailed reports on SARS-Cov-2 infections in animals that have been reported to the OIE can be accessed at the OIE's Findings in Animals page.
Tests for Covid-19 in animals are now available in the UK but have to meet strict criteria. More information is available in our FAQs.
Advice if pet owners have Covid-19 or are self-isolating
The OIE recommends that people who are sick with Covid-19 limit contact with companion and other animals until more information is known about the virus. Read the OIE Questions and answers on Covid-19 in full.
Government advice is that owners of pets in households with confirmed or suspected Covid-19, who think their pet may need veterinary treatment, should make contact with the practice first and alert them to the household's status. Read the Defra Covid-19 advice for people with animals.
Our advice for pet owners diagnosed with Covid-19 or self-isolating with symptoms is:
Restrict contact with pets as a precautionary animal health measure until more information is known about the virus.
If your pet requires care, wash your hands before and after any interaction with them and wear a face mask if possible.
Keep cats indoors if possible, and only if they are happy to be indoors, and try to arrange for someone else to exercise dogs, taking care to restrict any contact with the person walking your dog and making sure they practise good hand hygiene. This is to reduce the likelihood of your pet spreading the disease through environmental contamination on their fur – there is no evidence that pet animals can pass Covid-19 to humans.
If your pet shows clinical signs, please do not take it to the vet but call the practice for advice and alert them to the household's status. 
If your pet requires essential treatment, call the practice for further advice. Do not take your pet to the surgery unless the vet instructs you to. You may need to arrange for someone else to transport your pet for treatment.
Additional veterinary resources and guidance
The Veterinary Defence Society has a number of advice notes available to VDS members relating to VDS professional indemnity insurance policies