Discussing responsible medicines use with veterinary clients
AMR In Focus: This blog explores the complex topic of promoting responsible medicines use, with a particular emphasis on antimicrobial use on farms. By drawing on research, the authors discuss ways to effect behaviour change around medicines use and how to implement these into the vet-farmer relationship.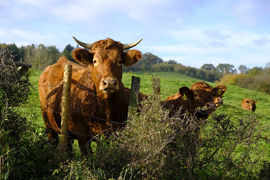 Human behaviour is complex, and communicating with clients and farmers about responsible use of antimicrobials (AMs) often seems difficult. The University of Bristol's Langford Vets Farm Animal Practice has reduced overall use of AMs and ceased use of the highest priority critically important antimicrobials without detrimental effects to the health, welfare or production of the livestock under their care. Throughout this process, and in continuing research through the AMR Force, our research team, we have identified a number of steps to making positive changes in collaboration with clients.
The challenges
A number of variables can influence the use of AMs on farms, and mixed messages can leave veterinary surgeons and farmers not knowing where to turn. Some difficult areas are:
Lack of specific knowledge about causative organisms of disease due to limited rapid and cost-effective diagnostics
Complexities of the number of available AMs that can be used for treatment
Perceived ability (or inability) to deal with numerous and ever-changing problems occurring on farms
Shifting sands of agricultural economics (farm gate prices, subsidy levels, etc.)
Farmers must keep the best interests of their animals and their operations in mind, and use of AMs is closely tied to these (often very personal) goals. Decision making and action is therefore situated within a complex individual world, influenced by cultural ideals as well as technical, societal, economic and institutional challenges.
Some solutions
To effectively inspire engagement with responsible medicines use, veterinary surgeons must be able to integrate scientific knowledge and advice within an understanding of the individual farmer and their perspectives on AM use, as well as their unique goals and on-farm practicalities. This can be achieved through:
Expanding understanding of the complex world in which AMs are used,
Enhancing the ability to communicate and engage in discussions on AM use, and
Working to ensure that those who understand this context best (the farmers themselves) are active participants in developing realistic solutions.  
Understanding a complex world
The way in which AMs are used on farm is currently poorly understood. While veterinary surgeons are the "gate-keepers" of AMs and are responsible for prescribing them to animals under their care, farmers in the UK are in a privileged position of being able to store and use prescription veterinary medicines on-farm. Recent research has shown that farmers make treatment decisions based on multiple complex factors. The cost of a medicine is obviously important; however, cost is often less important than the perceived "strength" of the medicine, the past experience of the farmer in using the medicine on his or her particular farm and the availability of the medicine at that moment in time (i.e. Is there a bottle in the cupboard?).
Farmers may modify dose rates and course lengths with the intention of improving treatment response, such as doubling doses or doubling course length, especially in lactating cow intramammary treatments. Another key motivator behind treatment decisions is avoiding risk; given that there is often a large degree of uncertainty when diagnosing disease on farms due to a lack of available diagnostic tests. One way of mitigating this type of risk-averse behaviour is to introduce evidence-based treatment protocols, thus reducing perceived uncertainty and avoiding the need for treatment decisions. Protocols of this type are being increasingly used within the National Health Service in human medicine.
Enhancing our abilities to communicate
When advising on AM use, it is natural to fall into the trap of providing compelling arguments and solutions as our first instinct in helping farmers implement positive change. Unfortunately, clients considering complex change are often ambivalent, having just as good reasons to carry out a behaviour ('I want to be a good steward') as to not carry out a behaviour ('I worry reducing AMs will affect welfare and production'). When we do our best to help by telling, coaxing and persuading clients, psychology tells us what we really do is evoke their arguments against change through a process called 'reactance'.
To actively engage clients in conversations on responsible medicine use, there are several routes to more positive engagement:
Use open and evocative questions to encourage clients to talk about their own goals, motivations and potential positives of changing AM use,
Emphasise the client's ultimate control in decisions relating to the management of their herd and over the change process itself, and
Affirm farmer strengths, abilities and behaviour generously throughout to reinforce their competence in tackling the complexities of AM use.
Work with farmers to create solutions
Once we understand the situation and have improved our listening, we can empower farmers to create solutions that work for them. We currently run Farmer Action Groups and facilitate farmers to share best practice and explore solutions that are shared from one farm to another. We've also helped retailers give a voice to farmers who have themselves designed stewardship policies that are powerful and bring about long-lasting change. Veterinarians can encourage farmers to participate in such programmes and can come up with more creative ideas to help farmers make the best choices with regards to AM use!
Call to action
Each aspect of our research suggests that fully engaging clients with messages on AM use requires careful attention to the farmer's world, motivations and personal solutions. Through questioning of their own assumptions and curious communication with farmers, veterinary surgeons can find much of the insight to support advisory dialogue and be a positive force for change in this important area.
More information
Our special blog series on antimicrobial resistance, AMR in Focus, invites experts from the fields of veterinary science, academia and government to share perspectives on key achievements, latest research and future action needed to tackle this serious issue. All opinions in the blogs reflect those of the writer.
For more discussions on antimicrobial resistance, join us at  BVA Congress at the London Vet Show (16-17 November) for a Friday afternoon session on  'The psychology of antimicrobial resistance: what can social science tell us?', featuring David Brodbelt, Professor of Evidence-based Veterinary Medicine at Royal Veterinary College; Ian Donald,  Emeritus Professor of Psychology and Director, Mulberry Research & Consulting Ltd, and Kristen Reyher, Senior Lecturer in Farm Animal Science at the University of Bristol. 
Contact our media office
(for press enquiries only)
Want to join BVA?
Get tailored news in your inbox and online, plus access to our journals, resources and support services, join the BVA.
Join Us Today