How to support and champion LGBT+ colleagues at work
Steph Hughes is a veterinary physiotherapist who runs the 'Revolution Veterinary Physiotherapy' practice in the West Midlands, specialising in equine rehabilitation, competition care, and performance issues. In this blog, she talks about her experiences at work and gives advice on how to support and champion LGBT+ colleagues.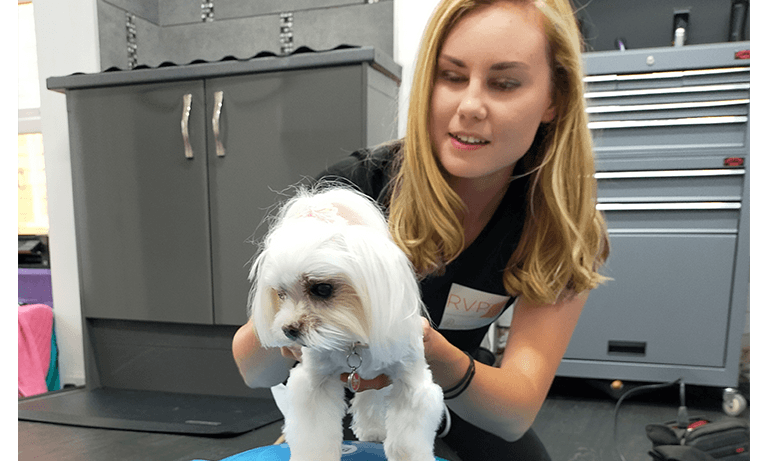 Challenges I face:
Unfortunately I have had a few unpleasant experiences in regards to my sexuality when working in typically female-dominated spaces, such as the equine industry. Before I came out, I have been a witness to some influential individuals (including riders, trainers, grooms and lecturers) openly making fun of their female LGBT+ staff members, colleagues, and even their students. Shockingly, one of these individuals was actively working on a safeguarding team for vulnerable young people at the time.
In addition, I have experienced a sense of unease with a small proportion of my clientele if I happened to mention my partner during our discussions. It was the case that they always referred to my previous partner as my 'friend', and never addressed her as my partner. Although I am certain that no harm was intended by this, and they probably didn't want to say the wrong thing, it's hard not to feel as though your relationship is not taken seriously or isn't considered to be fully equal to a heterosexual relationship.  
When entering new yards and meeting new clients, I have to make an evaluation about whether it would be 'safe' for me to disclose that my partner is a woman if they happen to ask a personal question, or to correct a client when they assume I am straight. The subconscious fear that a client would leave my practice because of this is always there, therefore I actually do not correct people in most instances, and go about my daily life pretending to be someone I am not.  
How it affects my work:
The viability of my business depends on having an abundance of clients- and for that to happen you need to be likeable, as well as being a good physio. I always have a fear that being my authentic self may alienate clients, clash with their political or religious views, and cause them to seek the advice of another therapist. 
Sometimes my identity can also affect my self-belief, leading me to question whether I should be doing this job. A lack of diversity in both the veterinary and equine industries meant that I never had a role model, or knew of anyone working in the industry that identified as I do. In the past, this has led me towards negative thoughts such as 'I don't belong here'.
Feeling as though you don't fit in makes it hard to have the confidence to take new opportunities and make new connections. It wasn't until I found the British Veterinary LGBT+ community that I had the confidence to begin to think about being more open about my sexuality at work, and care less about the opinions of others.
What colleagues should be aware of:
These incidences may seem small and insignificant (and some of them were not directed at me personally), but we carry these memories of casual homophobia and prejudice with us for the rest of our lives.  It can deeply affect our mental health, future decisions, and how we view ourselves: so please, think before you speak! I personally have had to seek professional help in order to gain closure from witnessing homophobic bullying at school. These memories are still vivid in my mind, and still affects me to this day, even though I wasn't the one being bullied.
How colleagues can help:
In terms of helping your LGBT+ colleagues at work, small acts such as asking people their preferred pronouns, or even just being a listening ear for someone who is struggling can go a long way.
Don't be afraid to ask your LGBT+ colleagues about their experiences, or if you are unsure about correct terminology. I have so much gratitude for those colleagues who showed a genuine interest in learning about my identity, as it helped me to feel welcomed into that workplace, and most importantly it made me feel valued. Since those conversations, my working relationships with those practitioners have been extremely harmonious, and I believe patients have benefitted from our effective communication.
Please know that we will not be offended if you are unsure on how to address us, or with how to proceed in certain situations; it is ok to make mistakes, and gaining knowledge through honest conversations is the only way to build bridges between us. Plus we love any excuse to talk about our community and teach others about it!
Be an ally: if you witness any discrimination or homophobic or transphobic language in practice please do not turn a blind eye - by doing so it only drives the normalisation of homophobia in the workplace and in society as a whole. Unfortunately for us, homophobia is something we experience often in our daily lives, and sometimes standing up for ourselves puts us at more risk of harm than ignoring the problem. All we ask is that you politely correct colleagues (because often these things are not said to cause intentional harm), and perhaps explain to them why their language is not considerate towards other members of the team. And if you do witness intentional offensive language and discrimination, please report it so that it can be dealt with professionally.
For more information about how to support LGBT+ colleagues in veterinary workplaces take a look at our Good workplaces resources on equality, diversity, and fair treatment. 
Contact our media office
(for press enquiries only)
Want to join BVA?
Get tailored news in your inbox and online, plus access to our journals, resources and support services, join the BVA.
Join Us Today