Let's change the tide on bovine TB
An underutilisation of the close working relationships between farmers and private vets is a key shortcoming in current TB policies - James Russell BVA President explains more.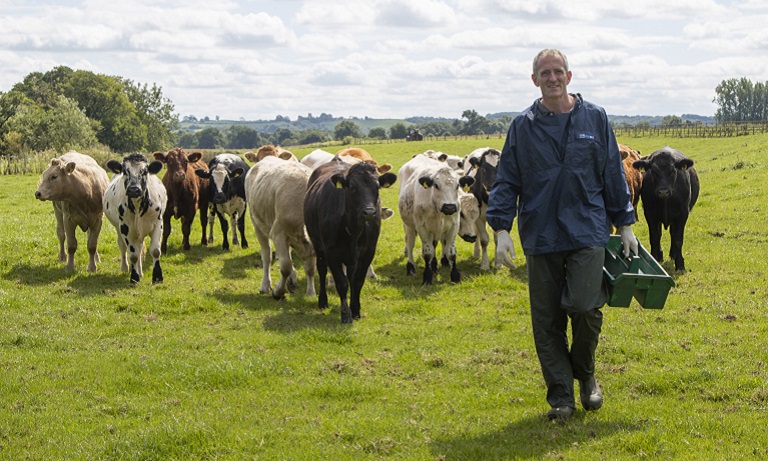 It can be grim. The week before somebody's wedding is not the time to tell them that their herd is now under TB restrictions and this group of animals will be taken away and shot. It makes it even harder when you've been invited to the wedding!
This though is the nature of our relationship with a number of our clients, and I am sure that many farm vets reading this could relate similar stories of where the pain of a bovine TB (bTB) outbreak fell very close to them. It was the recognition that this close vet-farmer relationship was not being used as it might be in bTB policy that became one of the driving forces for BVA to develop its new bTB policy position with the farmer-vet relationship as central to the recommendations.
Collaboration is key
We have called on government and its agencies to work with us and the relevant specialist divisions, principally the BCVA, to enable and support better collaborative working between private  and government vets. With this link improved, private vets can get on with doing what we do best – working with our clients to find sensible and pragmatic solutions to the risks on their farms.
We are also asking for novel and existing testing techniques to be made available for use at the discretion of the private vet and their farmer, to be carried out in addition to the statutory testing required in the TB order. This may be the first step towards being able to manage risk more effectively on a farm, by understanding not just 'reactor' vs 'non-reactor' but also potentially 'high risk' vs 'low risk'. With the Livestock Information Program coming down the track, recording and reporting these results would make knowledge-based purchasing a step closer to being an effective tool.
In short, our latest bTB policy document details where BVA currently stands. We have not altered our position on the badger cull, believing it to be an appropriate tool to use where there is evidence of spread of disease from wildlife to cattle, so long as it is carried out humanely and effectively. We have added a much more holistic and comprehensive approach to tackling bTB though including a recognition that like any disease, the relationship between a farmer and their vet is paramount when it comes to any effort at identifying risk and reducing it farm by farm. Only by harnessing the power of this relationship and giving it the freedom to act appropriately will we make serious inroads into the TB in cattle, which has blighted our national herd for so long.
An invitation to veterinary colleagues
I would invite vets out there to take a few minutes to read through our position document, and if you haven't got the time or patience for going over all 70 pages, the 35 recommendations are collated in a short executive summary. If there is something in there which captures your imagination, then I would urge you to take the pledge to do your bit to reduce the risk of bTB in cattle on your farms, one farm at a time. That way, in the future, there will be fewer farm weddings where we end up feeling like the spectre at the feast!
Contact our media office
(for press enquiries only)
Want to join BVA?
Get tailored news in your inbox and online, plus access to our journals, resources and support services, join the BVA.
Join Us Today