Poultry keepers urged to be vigilant of Newcastle Disease
We're urging all vets who come into contact with poultry to be vigilant following a number of cases of Newcastle Disease. Phillip Hammond, BVPA President, highlights the symptoms of Newcastle disease and shares his advice for clients.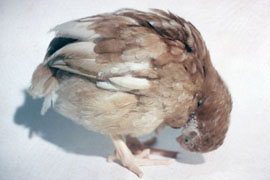 We're urging all vets who come into contact with poultry to be vigilant following a number of cases of Newcastle Disease in poultry across Europe.
Cases have been reported in Belgium, Netherlands and Luxembourg and Animal and Plant Health Agency (APHA) experts have now increased the risk of disease in British flocks from 'Low' to 'Medium'.
What is Newcastle Disease?
Newcastle Disease is caused by paramyxovirus and is easily spread through direct contact with poultry or bodily fluids from infected birds. Very high mortality can be observed in poultry species, including commercial, specialist breeds, game birds, pet chickens and other captive and wild birds, including racing pigeons.
What are the symptoms?
The symptoms of Newcastle Disease include:
Respiratory distress, such as gaping beak, coughing, sneezing, gurgling and rattling
Nervous behaviour, such as tremors, paralysis and twisting of the neck
Unusually watery faeces that are yellowish-green in colour
Depression and a lack of appetite
Produce fewer eggs which could be misshapen and soft-shelled
Is there a risk to humans?
Public Health England (PHE) have advised that the risk of Newcastle Disease infecting people is very low.
What is the current situation in the UK and what can be done to prevent it spreading here?
The UK is currently considered free from Notifiable Avian Disease (NAI), including both Avian Influenza and Newcastle Disease. All poultry keepers are encouraged to practice high standards of biosecurity to prevent introduction and spread of this virulent infection. If detected, the virus can have far reaching effects in the same way as Avian Influenza, including severe restrictions on trade and exports, control and restriction zones on movement of poultry and poultry products and slaughter of infected flocks. Details on protecting flocks against notifiable avian disease can be found on the British Veterinary Poultry Association (BVPA) website.
Vaccination is an option in some cases and should be considered where practically possible. Both live and inactivated vaccines are available although such vaccine are produced for commercial poultry.
Advice for clients
APHA have offered the following advice for poultry keepers in protecting against Newcastle Disease:
Ensuring, where appropriate, their birds have been vaccinated against the disease.
Implementing strict biosecurity measures on their premises, including using disinfectant foot baths and reducing visitors to the birds.
Thoroughly cleaning vehicles, equipment, clothing, boots that have been in contact with birds.
Feeding and watering should be under cover and kept away from wild birds.
Washing their hands with soap and water after handling their own birds.
Should a vet suspect Newcastle Disease they should contact APHA so that further investigation can be undertaken.
Contact our media office
(for press enquiries only)
Want to join BVA?
Get tailored news in your inbox and online, plus access to our journals, resources and support services, join the BVA.
Join Us Today