Responding to your questions on our updated Covid-19 guidance
BVA President, Daniella Dos Santos, responds to your question and concerns on our updated Covid-19 guidance.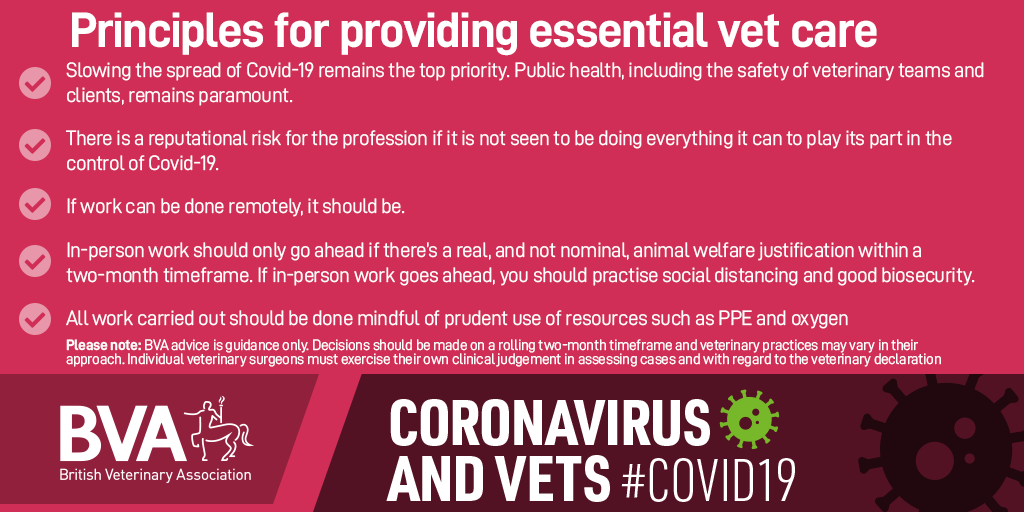 First of all, I want to recognise the concern and questions that have come up following our updated guidance being circulated on Thursday. I know there is a huge amount of fear and anxiety within society as a whole, and also within our own community. I want you to know that we are listening to your worries and that we take them seriously.
Amongst the comments and emails we've pulled out some themes in your questions and I want to address those directly. But I also encourage you to read the BVA guidance document as a whole, and not just focus on the "traffic light" section.
Please have a look at the principles which start with:
"Slowing the spread of Covid-19 remains the top priority for everyone. Public health, including the safety of veterinary team members and clients, remains paramount."
And remember that this is only guidance, intended to assist with decision making, and that your clinical and professional judgement comes first, including managing how you keep you and your team safe.
When the Prime Minister announced the initial three-week lockdown we all worked hard to figure out what that meant for our sector and, as I've said before, I'm very proud of the way the veterinary profession changed its businesses overnight to restrict movement and contact. But it's also true that we faced some robust challenge from some in the profession who felt the restrictions we recommended were too much and an over interpretation of government advice. We felt that our guidance struck the right balance.
Government advice
At the time the initial lockdown was announced, the government explicitly listed veterinary surgeries as one of the essential businesses that could remain open in recognition of our vital role in ensuring animal welfare and maintaining the food supply chain.
Government advice has been evolving over the last three weeks, including in terms of making clearer statements about the importance of business continuing.
General government guidance on business now states: "During this time of unprecedented disruption, the UK Government is not asking all businesses to shut – indeed it is important for business to carry on," and "Where the social distancing guidelines cannot be followed in full in relation to a particular activity, businesses should consider whether that activity needs to continue for the business to operate, and, if so, take all the mitigating actions possible to reduce the risk of transmission between their staff…" 
So, throughout all of this we've tried to balance the government messages that people must stay at home and that businesses must continue, alongside our own commitment as a profession to animal health and welfare, in line with our oath as veterinary surgeons.
It is important to state that government guidance on businesses would have us go further than we have in our guidance but we have prioritised human safety and have advised restricting veterinary work to that which is essential for animal health and welfare as time goes on.
Why have we issued updated guidance now?
We made clear in our original guidance that it was for the initial three-week lockdown period and would need to be reviewed. We were mindful that what was not urgent or an emergency in the first three weeks, could store up real animal health and welfare problems or public health concerns over a longer period of time.
Some form of government lockdown restrictions is likely to continue for months and it would not be sustainable to only do emergency and urgent work. We felt it was right to give practices the option of doing work that would help reduce or manage significant animal welfare problems.
This may vary across the country – for example, where one local area may be worried about the risks of parvo, another may be concerned about leptospirosis. We wanted to give you the ability to manage your local disease risks in the best way using your professional skills and local know-how, guided by some overarching principles.
Some have asked why we issued our new guidance before the end of the current lockdown period and before the Easter bank holiday weekend. Our reason was to give practices a heads-up and enable them to start to plan ahead for how they might approach the changing guidance from the RCVS.
Specific vs general advice: why the "traffic light" approach?
Our initial "traffic light" guidance received a huge amount of support from the profession and members told us they were grateful for the clear steer to help their decision making. We considered whether to move away from providing specific examples in the updated guidance, but on balance the strong message we had from the profession was that clarity was important.
But just because something is in the "green" section, does not mean you have to do it. In every case you must assess whether it can be done safely with social distancing and continue to use your clinical and professional judgement.
How was our updated guidance developed?
Things have been moving rapidly but we have carefully considered the changes and consulted closely with the relevant specialist associations and affiliate organisations, as well as the RCVS and the government, via the UK CVO. We also worked with BVA's Policy Committee which includes members who work in all areas of the profession, including first opinion clinical practice in different sectors and research/academia.
Next steps
Please join me and the RCVS President Niall Connell for the next Covid-19webinar on Sunday to hear more about the thinking behind the guidance both from BVA and the RCVS. You can register here.
If you have sent us a message on social media or via email about the guidance, please bear with us. Our small team has been overwhelmed with questions for the past month so we're working our way through them all.
Stay safe and thank you for engaging with us as we navigate these difficult times.
Contact our media office
(for press enquiries only)
Want to join BVA?
Get tailored news in your inbox and online, plus access to our journals, resources and support services, join the BVA.
Join Us Today