Sustainability – the world in our hands
On One Health Day, BVA President Justine Shotton shares why she cares about environmental sustainability, how BVA is trying to make a difference, and encourages vets to get involved too.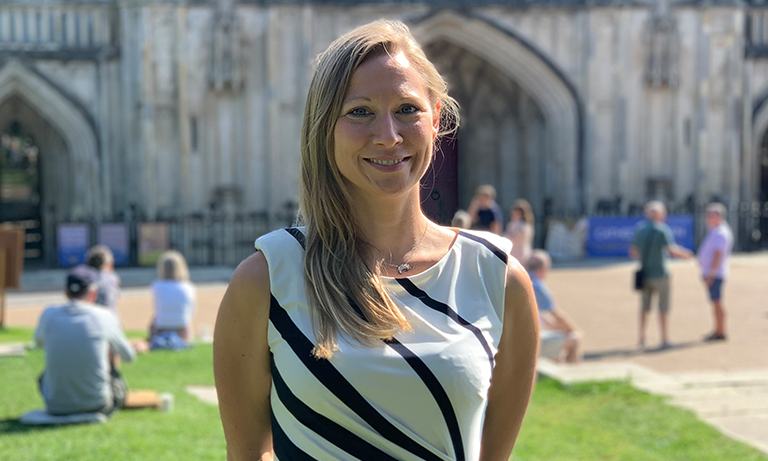 Presidential theme
My theme during my Presidential year is Sustainability – with a focus on environmental sustainability. The pandemic has centred the world's attention on emerging diseases and how these interplay with how we use and impact on the natural environment. As a vet working for a conservation-focused zoo, I have always believed that we each have a part to play in ensuring our practices are sustainable for the long-term, and that we need to find the balance to allow humans to thrive while supporting our wider ecosystems and all the wonders they hold. With COP26 now underway, I can think of no better time to really push forward these priorities across our profession. Sustainability really demands a One Health approach, always considering the health of the environment, animals and people, to ensure we can all continue to prosper.
I know our profession cares deeply about the sustainability agenda – with a recent Voice of the Veterinary Profession survey reporting that 79% of vets say that they would like to play a more active role in sustainability. We continue to work collaboratively with other organisations on sustainability, and earlier this year launched the Greener Veterinary Practice Checklist, in partnership with Vet Sustain, SPVS and BVNA, to help veterinary teams really start making tangible headway to reduce their carbon footprints. I am keen to ensure that at BVA we continue to deliver practical, useful and impactful resources to our members and the wider veterinary profession to make sure we know how to make a difference, and what changes are easy to achieve to make the biggest difference. Do check out our #GreenTeamVet resources. Sustainability also fits into Good Veterinary Workplaces, as good workplaces are those that care about important areas such as this and support their staff in making tangible progress.
It's clear that we all have a duty to work on this in each of our areas. I'm very proud to say BVA recently achieved the Investors in the Environment's Silver accreditation – this is a fantastic scheme and I would encourage you all to get your workplaces engaged in this. We are now planning on going for the top-level 'Green' accreditation and have a fantastic Green Group who are leading this transition. We care deeply about animal welfare and sustainable agriculture, including our #ChooseAssured campaign, and this year will also be working on a sustainable aquaculture policy position. 
BVA Congress at LVS – Sustainability as a focus for our profession
I'm delighted to say our Congress sessions at the upcoming London Vet Show will have a strong focus on Sustainability. London Vet Show takes place while the COP26 summit is being held in Glasgow, with world leaders working together to make real progress on mitigating climate change.
We have a number of fantastic discussion sessions around this theme, including the 'Race to Zero' session, where panellists discuss the role of our profession in tackling climate change. Our keynote speaker for the Wooldridge Lecture is Dr Tamsin Edwards, a renowned particle physicist-turned-climate scientist, and I'm particularly excited about hearing her speak. We have panel sessions debating the carbon pawprint of pet ownership, sustainable agriculture, and following the launch of our recent policy position on the same topic, how we can use parasiticides in dogs and cats responsibly and effectively. 
Our paper-free stand at London Vet Show will give you the opportunity to come and talk to us about sustainability and what you're doing in your workplace, so please do come and share ideas with us – we'd love to see you there!
Time to take action
With so much bad news and frequent reports of ecosystem collapse, extinctions and global temperature rises, it's easy to become overwhelmed or apathetic about the sustainability agenda. But we can make a difference, as individuals, organisations and in wider society, and our behaviours do influence others. It's great to see so many world leaders taking the sustainability agenda more seriously, but do not underestimate the impact that comes from small actions and changes that you can make on a daily basis. 
Take a look at our #GreenTeamVet campaign information, including the 'Greener Veterinary Practice Checklist' and Choose Assured infographics.
We hope to see you at BVA Congress during the London Vet Show (11-12 November) where we'll be joined by a range of expert speakers for sustainability-themed sessions and encouraging the profession to get involved in #GreenTeamVet. 
Contact our media office
(for press enquiries only)
Want to join BVA?
Get tailored news in your inbox and online, plus access to our journals, resources and support services, join the BVA.
Join Us Today