The challenges and opportunities of the farm practice in 2020
Farm practice has undergone a quiet revolution in the last 2-5 years. Here, Pete Orpin explains what the big challenges are, and what opportunities they represent.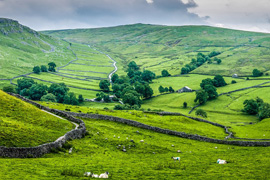 Farm practice has undergone a quiet revolution in the last 2-5 years, with the advent of the corporate consolidators taking a greater interest in acquiring farm practices, antimicrobial resistance agendas, and the expansion of fee-based consultancy opportunities.
The largest purchasers of farm medicines in Europe are now the large veterinary corporates, shifting the balance from marketing and buying groups, to models based on corporate ownership. These rapid changes will provide further challenges and opportunities.
Recruitment
These changes are also overlaid by all the challenges of recruitment, declining TB testing income, and the expansion of herd sizes. Gone are the days when a simple advert would deliver a long list of potential interviewees, eager to work in your practice. The ability to recruit, and more importantly, retain and develop the next generation of farm vets, is key to the success of any veterinary business.
The expansion of dedicated small animal, out of hours clinics has accelerated the demise of mixed practices in more suburban locations, and divestment has allowed other practices to expand. How do you help mitigate the costs and diseconomies of scales that result?
The demands are increasing: the passive income streams are declining. For farm practices to grow sustainably new approaches are required. We cannot sit back and wait for work to come to us - we must seek it. The work must inspire and challenge the farm team too, whilst delivering a profit. No mean feat!
Identifying and managing changes
The aim of the facilitated training event is to harness knowledge, and to work through the ideal structures for a successful veterinary practice. The practice must achieve an expertise pyramid, and critical mass, to allow consultancy and pre-planned work to flourish. This may mean structural changes such as sale, merger or acquisition, or just a more refined focus on how the practice is run.
How do you manage change within a farm practice when getting people in the same room at the same time is a nightmare! Effective decision-making and meeting management is central to progress, and often these skills sets are limited in veterinary practices.
Seizing opportunities and closing the deal
Antimicrobial usage has changed substantively, with a coherent drive to reduce Critically Important Antibiotics, and an overall reduction in antimicrobial use. This all leads to opportunities to drive preventive health consultancy and vaccine use as a way of defraying income lost from medicines sales.
Is the fee-based "activity based" pricing model of old, the right one for the 21st Century farm vet? We often end up in a win:lose arrangement, with further health improvements benefiting the farmer and diminishing the income for the farm vet as medicine sales and fee-based work declines. Are health contracts based on monthly payments and pence per litre contracts the way forward, or do we just have to get real and simply bill effectively for our time?
Building skill sets and using drivers
Once we have a correct structure and sufficient clients willing to invest in your services, then we need to identify the skills required to sell and develop your advisory work and health planning. This will depend on your communications, marketing, promotions and interactions with farmers. Understanding client types, and refining how you manage one to one discussions and facilitate peer to peer learning, is critical.  The work on motivational interviewing conducted by the Bristol University team will be discussed, as this has opened new opportunities and conversations for farm clinicians.
Economics will drive the larger commercial farmers of tomorrow, as well as the ability to use simple methodologies and tools to illustrat profit opportunities for farmers. The tools and approaches used will depend on the behaviours, beliefs, and client types of farmers. Each requires a different conversation - shouting louder won't work.
Contact our media office
(for press enquiries only)
Want to join BVA?
Get tailored news in your inbox and online, plus access to our journals, resources and support services, join the BVA.
Join Us Today