The Presidential year of the FMD epidemic
David Tyson was BVA President when the foot and mouth disease outbreak struck the UK. Twenty years on, he reflects on the scale and response to the 2001 epidemic.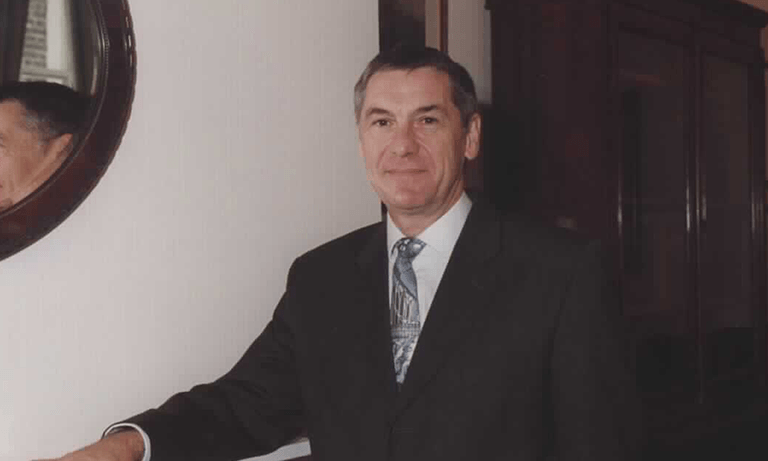 It was 5.45am on Wednesday 21 February 2001, and I was getting ready to catch an early train from Newcastle to London. On in the background was BBC Farming Today and I could hear the familiar voice of then Chief Veterinary Officer Jim Scudamore. He was talking about foot and mouth disease in an Essex abattoir- did I hear that right? By the time I had arrived at BVA headquarters, things were stirring. It was only one case, but in an abattoir, so the question was, where had it come from? By Friday, we knew that the index case was a swill-feeder at Heddon-on–the-Wall, less than 5 miles from where I lived.
The scale of the outbreak
It had been 33 years since the last major outbreak of the disease.
The enormity of the problem began to appear very soon after. By 5pm on Friday, there was a complete standstill of animal movements across the UK– a lockdown. Cases had begun to appear from Northumberland to Devon, so the usual local three-kilometre restriction zone wasn't enough; for the first time ever, the restriction on animal movements was nationwide.
To give an idea about the scale of the outbreak, there were at least 57 cases already in train before the first confirmation of disease. The Ministry of Agriculture, Fisheries and Food (MAFF) and EU contingency plans for the worst-case scenario were 10 simultaneous outbreaks more than three kilometres apart. Even this number would have required every full time MAFF vet plus Temporary Veterinary Inspectors (TVIs). It became clear to us that manpower would be a big problem. BVA very early on issued a "call to arms", and later BCVA did the same.
BVA's response
BVA's office at Mansfield Street became an information hub. Our press team was inundated with requests for briefings and interviews- over 1,000 in the first 10 weeks. All the interviews were done by vets as it was thought that that would come across as more authoritative. The BBC asked if they could have someone embedded in the newsroom to advise on their coverage of the outbreak, so BVA Past President Eifion Evans spent three weeks there.
We asked for and got a lot of feedback from members doing the work at the coalface, telling us of the problems they were facing in the field. I took a call from a vet in Cornwall; he was standing in a shed full of culled cows as the rules at the time were that he had to be there to supervise disposal and disinfection. He felt his job was done and his valuable time would be spent trying to catch up on new cases. This bottleneck of disposal and the distress that caused led to the Army becoming involved in the last week of March. This really did free up veterinary time.
Volunteering to control the epidemic
As part of the information gathering and to assist with the epidemic, I and a gaggle of BVA Past Presidents enrolled as TVIs covering Cumbria, the North East, North Wales and the Welsh Borders, which gave us invaluable experience to take back to MAFF and deal with media interviews with a greater authority.
It was said that the disease in sheep could be mild, hence the initial spread in sheep was not noticed. I was sent to a report of disease by a farmer, to a large field of 200 in-lamb young sheep. On shaking the feed bag, less than half of them got up to get the feed and we were able to catch four still lying down. They had the typical feet and mouth lesions. Samples were taken and we were two miles from the farm and no signal to ring it in! That was FMD case 703. The farmer was visibly upset when told that the diagnosis had been confirmed and I felt very sorry for him; I was brought up on a livestock farm so understood how he must have felt.
Looking back
Twenty years ago, in February 2001, we were faced with a situation no scenario planning would have postulated, so there wasn't a plan fit for this. It was chaotic for the first month but gradually order came. In the end there were 2,026 infected premises and 4.2 million animals were slaughtered.
As I had driven from Newcastle to Carlisle to enrol as a TVI, the route had been punctuated by the smoke of pyres. All across the country there would be eerily quiet buildings, no cows to milk, no sheep to lamb. This did affect farmers and families deeply. Many books of poems, essays and reflections were published attesting to the awful effect it had on people. It wasn't easy to tell a farmer that his stock was infected and perhaps two or three hundred animals he knew as individuals would have to go.
I was in the position of experiencing the crisis from different angles- the stresses of being out in the field as a TVI and the pressures of being called on for media calls and policy information at BVA. The veterinary profession rose to the very challenging occasion and, despite the many questions at the time, looking back I think we can be proud of what we achieved.
Contact our media office
(for press enquiries only)
Want to join BVA?
Get tailored news in your inbox and online, plus access to our journals, resources and support services, join the BVA.
Join Us Today