BVA welcomes Bill to ban public use of inhumane rodent glue traps
We've joined forces with animal protection and research organisations and TV wildlife expert Chris Packham to welcome a government-backed Private Members Bill by Jane Stevenson MP this week to ban the widespread use of inhumane glue traps.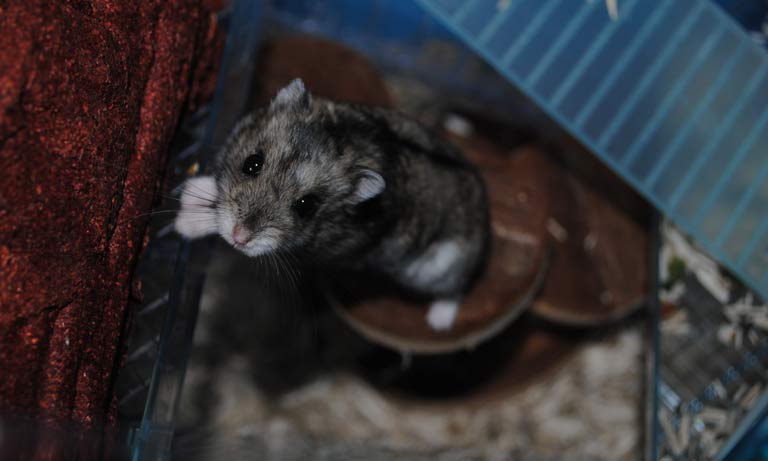 BVA, the RSPCA, Humane Society International/UK, Universities Federation for Animal Welfare, Peta UK, Animal Aid, Cats Protection and UK Centre for Animal Law, support the Bill that will receive its second reading on Friday 19 November and would make it an offence to set glue traps in England to either deliberately or accidentally catch a rodent. The groups are also calling for the Bill to be strengthened with stricter regulations to limit glue trap use by pest controllers.
Glue traps are rudimentary devices sold widely to the public in DIY and corner shops, as well as online, for as little as 99p. Designed to catch mice and rats in a layer of extremely strong glue, the traps do not usually kill the trapped animals immediately, meaning they can suffer for hours, even pulling off limbs in an attempt to escape. The indiscriminate and crude nature of the traps also means that they frequently catch other animals, with the RSPCA and other rescue centres regularly receiving calls to assist with animals including cats and robins suffering and dying on traps. A total of 236 reports of glue trap incidents were made to the RSPCA cruelty line from 2016 to 2020 - involving a range of species including cats, garden birds, hedgehogs, squirrels and even a parrot.
Naturalist Chris Packham said "Rats and mice are intelligent, social animals who we persecute in their millions with dreadfully cruel contraptions such as glue traps which often cause their tiny victims to die slow, agonising deaths as they suffocate in the glue or tear off their own limbs in their struggle to escape. If we treated other wild animals like this, there would quite rightly be uproar. Labelling mice as 'pests' is basically a licence to kill and inflict suffering on them, so I would really love us to rethink rodents and that's why I fully support a ban on the public use of glue traps. It really can't be right that literally anyone can go to a garden centre or DIY shop and purchase such an indiscriminately cruel device. I also support strengthening the Bill language along the lines of the glue trap ban that's worked so well in New Zealand, where appropriately qualified pest controllers have to apply for a licence on a case-by-case basis."
Chris Sherwood, Chief Executive of the RSPCA, said: "We are pleased to see the first steps towards more regulation of torturous glue traps which cause such suffering and misery to animals, however we would like to see the exemptions clarified and loopholes tightened so this law is as effective as it can be. The way the Bill currently stands only rodents are included in the wording. It is true that mice and rats are victims but other animals such as snakes, robins, owls and even kittens are maimed or fatally injured because of these awful traps. We are concerned that the focus on rodents could provide a loophole for those who wish to set such traps for other animals."
The Bill includes an exemption to allow the Defra Secretary of State to license the use of glue traps by 'pest controllers' where there is 'no other satisfactory solution' and where the action is required for 'the purpose of preserving public health or safety'. However, groups that have been campaigning for a ban state that the wording of the exemption is not yet strong enough to clamp down on unnecessary use.
Claire Bass executive director of Humane Society International/UK said "Glue traps are inhumane, indiscriminate and indefensible, immobilising their victims who can be left to starve to death, suffocate in the glue, or die of their injuries over the course of hours. So, while we very much welcome this government-backed Bill to ban their use by the public, we are concerned that the Bill's weak licensing regime would allow glue traps to continue to be used liberally and with very little scrutiny, by very loosely defined 'pest controllers'. Shockingly, 'pest control' is an unregulated industry and we do not believe it has the ability to effectively self-police limitations on glue-trap use."
Campaigners and wildlife experts are urging for the legislation to follow the New Zealand model of requiring appropriately qualified pest controllers to have to apply for a glue trap licence on a case-by-case basis. New Zealand's 2015 regulations set clear and strict conditions and requirements for approval of glue trap use by pest controllers, including ensuring that there is no viable alternative. Since the regulations were introduced, the number of licences issued in New Zealand has fallen year on year, with just two approvals for use in 2020, indicating that the pest control industry has been able to adapt to the restriction.
Earlier this year, campaigners welcomed the Scottish Animal Welfare Commission's call for an immediate public ban on glue traps in Scotland and a strict interim licensing regime for other users, including pest controllers. The Commission proposed that licences should be restricted to individual users, situation-specific and time-limited, and should only be granted where there was evidence of last resort.
Groups are also calling for specific restrictions to be added to require pest controllers to check the traps frequently. Pest control industry groups such as the British Pest Control Association currently stipulate that traps must be checked after 12 hours, but welfare experts stress that while this might be convenient, it is unacceptably long from an animal welfare perspective.
Justine Shotton, BVA President, said "Ideally we don't want any licences granted, but if any are it's absolutely paramount that this goes hand in hand with training and stricter provisions for monitoring the traps once placed. The current requirement for only checking traps every 12 hours could subject a trapped animal to intense and prolonged pain and suffering, as well as heightening the risk that non-target species may not be freed quickly enough. We've recommended that direct or remote monitoring, as well as exploring the use of pressure-activated alarm pads with traps, could all help to speed up the recognition of trapped animals and significantly reduce welfare harms."
The UK Centre for Animal Law echoes these concerns and highlights that the Bill's definition of "pest controller" is too wide and could be read to include businesses which do not have requisite training on how to humanely trap and remove rodents where they interact with humans, and do not even carry out pest control full time as their principal activity. The Centre is therefore concerned that the Bill risks untrained and unprofessional persons potentially being licensed to deploy glue traps, resulting in further suffering being caused to animals.
Huw Golledge, CEO of the Universities Federation for Animal Welfare concluded "Clearly there is a need to prevent rodents from presenting a public health risk, but this should not give us carte blanche to inflict extreme and prolonged suffering on them using devices like glue traps. Whenever we manage wild animals, regardless of the species, we have a responsibility to do it in the most humane way possible. Many of our 'pest' laws are over half a century old and need to be brought up to date with the welfare science that tells us that rats and mice are sentient and as deserving of welfare protection as other wildlife. We also need to continue to look for genuinely humane and effective solutions for controlling rodents as these are sadly lacking at present."
Contact our media office
(for press enquiries only)
Want to join BVA?
Get tailored news in your inbox and online, plus access to our journals, resources and support services, join the BVA.
Join Us Today