Lethal cysticercosis in a pet rabbit
30 Sep 2018
Graham-Brown, J., Gilmore, P., Harcourt-Brown, F., Eastham, H., Williams, D.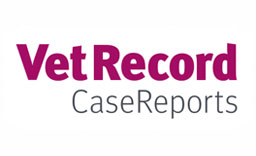 A one-year-old neutered female crossbreed rabbit died unexpectedly after initially responding to symptomatic treatment over a three-month period for recurrent gut stasis, inappetence and lethargy. Postmortem examination revealed numerous fibrous tracks within the liver from which flattish ovoid parasites could be extruded. Parasites were also found in large numbers throughout the peritoneal cavity. Histopathology confirmed verminous hepatitis with numerous parasitic granulomas within the parenchyma of the liver containing intact and degenerate parasites. The severity of the parasitic burden and associated liver damage was the presumed cause of death. Intact parasites showed morphological features consistent with Taenia pisiformis at 6–15 days postinfection. Species identification was confirmed by PCR sequence analysis. The rabbit was fed on hay sourced from a local farm, commercially available nuggets and washed vegetables. It did not graze outside. Hay contaminated with dog or fox faeces was the presumed source of infection.
You need to be a BVA member to continue reading this journals Login or join the BVA today.
LOGIN
JOIN US TODAY