Recurrent cerebrovascular accidents caused by intravascular lymphoma in a dog
30 Sep 2018
Sanchez, L., Beckmann, K., Dominguez, E., Di Palma, S., Shea, A.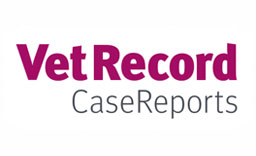 An eight-year-old, neutered male labrador was presented with recent recurrent vestibular episodes. MRI was consistent with multiple lacunar ischaemic infarcts in the thalamus and medulla oblongata. The imaging diagnosis was supported by a markedly elevated D-dimer concentration. Despite a comprehensive diagnostic workup (including fine needle cytology of cutaneous and subcutaneous nodules, complete bloodwork, urinalysis, thoracic and abdominal imaging, cerebrospinal fluid analysis, serial blood pressure measurements, echocardiography, electrocardiography and brainstem auditory evoked response testing), no underlying cause was found. After a partial response to 2 mg/kg clopidogrel once a day and 1 mg/kg prednisolone once a day, the dog acutely deteriorated and repeated MRI of the brain revealed an intra-axial haemorrhagic mass. Euthanasia was elected and postmortem examination revealed the presence of an intravascular null-cell lymphoma, exclusively in the central nervous system. Intravascular lymphoma is rare, difficult to diagnose ante-mortem and reports in veterinary literature are few.
You need to be a BVA member to continue reading this journals Login or join the BVA today.
LOGIN
JOIN US TODAY