Aortic chemodectoma causing a lymphocyte-rich effusion in a cat
18 Oct 2018
del Busto, I., Stiborova, K., Villiers, E., Ferreira, A. J., Bode, E. F.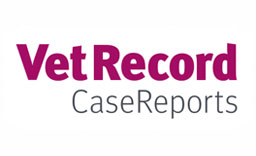 A 13-year-old neutered male domestic shorthaired cat presented to a primary care practice with a few days history of dyspnoea. Pleural effusion was diagnosed radiographically. Thoracocentesis was performed and analysis of the effusion was consistent with a lymphocyte-rich effusion (presumed chylothorax). The cat was referred for further investigations to determine the cause of the effusion. Subsequent CT and echocardiography revealed a heart base mass that was seen to infiltrate the interventricular septum. Fine needle aspiration of the mass was performed. Cytological evaluation revealed it to be neuroendocrine in origin, consistent with a chemodectoma. There was no evidence of metastatic disease. The cat was discharged for palliative care only and survived symptom free for a further six weeks at which time it was euthanased due to recurrence of pleural effusion. To the authors' knowledge this is the first reported case of lymphocyte-rich effusion due to a chemodectoma in a cat.
You need to be a BVA member to continue reading this journals Login or join the BVA today.
LOGIN
JOIN US TODAY