Clinical presentation and management of African horse sickness in two dogs
24 Oct 2018
Whitehead, Z., le Roux, C., O'Dell, N., Hanekom, J.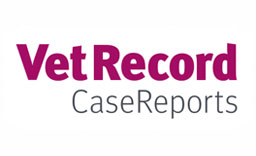 A 10-month-old, spayed, female beagle (case 1) and an unrelated two-year-old, intact, female labrador retriever (case 2), both living in Pretoria, South Africa, presented individually on separate occasions with acute onset dyspnoea and severe hypoxia. Thoracic radiographs demonstrated severe, diffuse interstitial to alveolar lung patterns with mild pleural and mediastinal effusion. Mixed airway inflammation was seen on transtracheal aspirate cytology in case 1. Both cases received supportive therapy, but only one dog survived (case 2). African horse sickness (AHS) was diagnosed at necropsy based on histopathology and immunohistochemistry in case 1 and was diagnosed antemortally using reverse transcriptase-PCR on whole blood in case 2. To the authors' knowledge, this is the first report to detail the haematological, biochemical, thoracic radiological, arterial blood gas and transtracheal aspirate cytology findings of AHS in dogs. This report also describes the treatment of a dog surviving clinical AHS infection.
You need to be a BVA member to continue reading this journals Login or join the BVA today.
LOGIN
JOIN US TODAY