CT evaluation of mesenteric avulsion after abdominal blunt trauma in a dog
30 Dec 2018
Nixon, R., Rossanese, M., Mesquita, L., Burrow, R.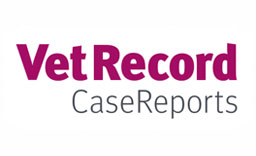 A 10-month-old German shepherd dog was presented following blunt abdominal trauma with evidence of circulatory shock. Abdominal ultrasonography and abdominocentesis confirmed a haemoabdomen. CT findings were consistent with active arterial abdominal bleeding secondary to mesenteric or splenic vessel rupture with a large haematoma visible in the region of the mesenteric root. The dog was stabilised prior to exploratory coeliotomy. This confirmed active haemorrhage of the cranial mesenteric artery and devitalisation of a large section of jejunum and ilium. The affected mesenteric vessels were ligated, and the affected intestinal segment was resected. While recovering from anaesthesia, the dog developed ventricular fibrillation. Cardiopulmonary resuscitation was unsuccessfully attempted. With the increasing use of CT in veterinary trauma patients, the recognition of the features of blunt bowel and mesenteric injury is crucial for a successful diagnosis and management of these conditions.
You need to be a BVA member to continue reading this journals Login or join the BVA today.
LOGIN
JOIN US TODAY