Exertional myopathy and hyoid luxation in a greyhound
31 Oct 2018
Marsh, O. J. R., De Risio, L.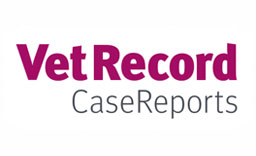 A four-year-old female neutered greyhound was presented for investigation of back pain and cough one week after an episode of extreme exertion. Investigations revealed severely elevated creatine kinase (CK), but no other haematological, biochemical or urinary abnormalities. MRI of the thoracolumbar spine showed diffuse, bilaterally symmetrical signal changes of the longissimus and iliocostalis muscles. These muscles were mildly hyperintense on T1W and markedly hyperintense on T2W and short tau inversion recovery (STIR) images, with strong contrast enhancement. The signal changes were consistent with muscle oedema, which was attributed to exertional myopathy. MRI of the pharynx demonstrated ceratohyoid-epihyoid subluxation. This dog made a complete recovery with two weeks of conservative management, which consisted of strict rest and analgesia (carprofen and gabapentin).
You need to be a BVA member to continue reading this journals Login or join the BVA today.
LOGIN
JOIN US TODAY