Extradural meningeal cystic lesion corresponding to type I meningeal cyst in a dog
19 Nov 2018
Tirrito, F., Lombardo, R., Matiasek, K., Rosati, M., Cozzi, F.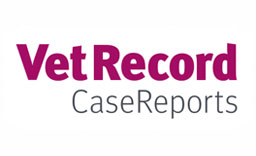 An 11-year-old spayed female dobermann was referred for progressive general proprioceptive ataxia and tetraparesis. MRI of the cervical spinal cord demonstrated a compressive, extradural, rounded space-occupying lesion at the C6-C7 right vertebral arch. The lesion was hypointense on T1-weighted images and hyperintense on T2-weighted images. The dog underwent decompressive surgery; a cystic lesion was removed. Histopathological examination revealed an extradural meningeal cyst corresponding to type I meningeal cyst. A few months after surgery, the neurological condition was substantially improved and no further deterioration was revealed one year later. This is the first reported case of type I meningeal cyst in veterinary medicine. Meningeal type I cysts should be a differential diagnosis for large breed dogs with compressive myelopathy and imaging finding of extradural cystic lesions.
You need to be a BVA member to continue reading this journals Login or join the BVA today.
LOGIN
JOIN US TODAY