Intranasal dermoid cyst without external sinus tract or swelling in an adult cocker spaniel
26 Nov 2018
Ellis, J., Nelissen, P.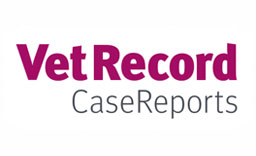 An adult female cocker spaniel presented with acute-onset sneezing. Advanced imaging of the nasal cavity revealed a mass lesion with erosion of the normal bony structures. Cytology and histopathology revealed intralesional keratin and marked inflammation. This was suggestive of a nasal dermoid cyst despite the lack of external swelling over the nose and absence of a draining sinus tract. The cyst was successfully removed surgically via rhinotomy. Some crusting was seen at the nostril postoperatively, which was considered secondary to reduced lacrimal secretion. No other signs persisted and the dog made an excellent clinical recovery. This is the first report of an intranasal dermoid cyst in a dog with no external signs of swelling or sinus tract.
You need to be a BVA member to continue reading this journals Login or join the BVA today.
LOGIN
JOIN US TODAY