Meningeal carcinomatosis secondary to a suspected pulmonary carcinoma in a cat and comparison with human literature
19 Nov 2018
Crespo, V., Ortega, M., Stabile, F., Di Palma, S., Fernandez, Y.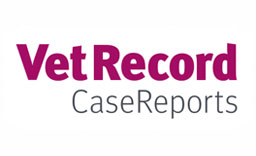 A six-year-old male neutered domestic shorthair was referred because of decreased appetite, progressive weight loss and anisocoria. Neurological examination identified a right mydriatic pupil, non-responsive to light, but no other neurological abnormalities or behavioural changes. Neuroanatomical localisation was to the right oculomotor nerve (parasympathetic component). MRI of the brain revealed a large mass affecting the meninges and intraparenchymal lesions in the cerebellum. CT of the thorax identified multiple nodules of different size within the pulmonary parenchyma and pleural and mediastinal effusion. Cytology of the pulmonary nodules revealed neoplastic cells consistent with pulmonary carcinoma, and histopathology of the meninges and brain revealed that the same epithelial population was infiltrating the meninges and the brain parenchyma. Based on these findings, meningeal carcinomatosis secondary to a suspected pulmonary carcinoma was hypothesised.
You need to be a BVA member to continue reading this journals Login or join the BVA today.
LOGIN
JOIN US TODAY