Pulmonary actinomycosis and hypertrophic osteopathy in a red kangaroo (Macropus rufus)
06 Dec 2018
Kunze, P. E., Sanchez, C. R., Pich, A., Aronson, S., Dennison, S.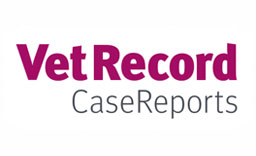 A five-year-old red kangaroo (Macropus rufus) presented with bilateral, firm thickening of the radius, ulna and metatarsal bones with local tissue hyperthermia. Radiographs revealed a soft tissue opacity left intrathoracic mass lying cranial to the heart, and extensive areas of smooth to palisading periosteal reaction along radius, ulna and metatarsus bilaterally. Culture of an aspirate from the mass yielded Actinomyces species. Treatment consisting of injectable penicillin and oral amoxicillin/clavulanic acid, meloxicam and tramadol was implemented for nine months. While receiving antibiotic therapy, the animal's clinical condition improved, however, clinical signs returned after antibiotics were discontinued. Keeping it on daily medications indefinitely was considered neither practical nor safe for the staff and highly stressful for the animal. The kangaroo was euthanased one year and two months after initial diagnosis. Gross necropsy and histological findings confirmed the clinical diagnosis of pulmonary actinomycotic abscessation with hypertrophic osteopathy.
You need to be a BVA member to continue reading this journals Login or join the BVA today.
LOGIN
JOIN US TODAY