Septic monoarthritis with isolation of P dagmatis as a monoculture in the stifle joint of a dog
24 Oct 2018
Bongers, J., van Stee, L., van Bruggen, L., Broens, E. M.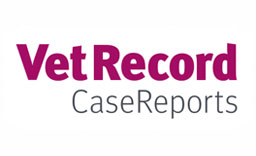 A seven-month-old male cane corso was presented to our emergency clinic, with severe left hind lameness. The combination of history, physical examination, radiographs and cytology of the left stifle raised a suspicion of a septic monoarthritis. Bacteriology of the synovia confirmed an infection with Pasteurella dagmatis. Pasteurella species are frequently associated with skin disease and often isolated from dog bite wounds in humans. Isolation of P dagmatis only incidentally occurs and its frequency might be underestimated due to laboratory misidentification. Its pathogenicity remains unknown and is presumed to be equal to other Pasteurella species. However, in humans, this organism is associated with more serious disease, which might potentially also be the case in our patient. To the author's knowledge, this is the first case report of a monoculture of P dagmatis isolated from the joint of a dog.
You need to be a BVA member to continue reading this journals Login or join the BVA today.
LOGIN
JOIN US TODAY