Solitary spinal nephroblastoma progressing to multifocal disease in a dog
14 Oct 2018
Yu, S., Hoffmann, K., Taylor, D., Lurie, D.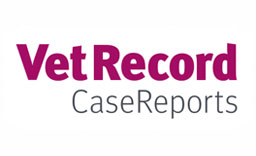 A two- year-old neutered Labrador dog was evaluated for acute onset hindlimb paresis and proprioceptive deficits. Spinal MRI revealed a lesion at the level of T9–T10, from which a presumptive diagnosis of spinal nephroblastoma was made. The dog showed clinical improvement after receiving neoadjuvant stereotactic radiotherapy but re-presented six weeks later with neurological deterioration. In addition to the primary lesion, a repeat MRI study revealed lesions at T6–T7 and T12. The dog was euthanased and multiple intradural, extramedullary spinal cord lesions were found at postmortem examination. Histopathological analysis of the lesions confirmed spinal nephroblastoma. This report substantiates the likelihood of intraspinal metastases of nephroblastoma occurring in the dog.
You need to be a BVA member to continue reading this journals Login or join the BVA today.
LOGIN
JOIN US TODAY