Spontaneous non-traumatic tension pneumocephalus in a dog with a nasal meningoencephalocele
15 Oct 2018
Shea, A., Dominguez, E., Stewart, J.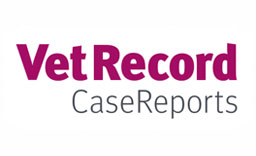 A 1.5-year-old neutered male Border collie was presented with acute onset left forebrain signs and unilateral nasal discharge 14 months after MRI diagnosis of nasal meningoencephalocele. Subsequent MRI revealed intraventricular pneumocephalus with a gas-filled tract extending to the rostral aspect of the intranasal brain parenchyma. Transient clinical improvement was noted with medical management, with euthanasia eight months post diagnosis due to deteriorating neurological status. The diagnoses of intraventricular pneumocephalus and frontoethmoidal meningoencephalocele were confirmed post mortem. This is the first reported case of non-traumatic tension pneumocephalus in a dog and the first report of pneumocephalus associated with a nasal meningoencephalocele in a dog.
You need to be a BVA member to continue reading this journals Login or join the BVA today.
LOGIN
JOIN US TODAY