Ulcerative stomatitis associated with ingestion of broomsedge hay in a horse
06 Dec 2018
Graves, M. T., Ivey, J. L.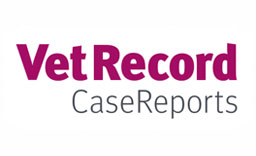 An adult mare presented acutely down in the pasture on January 21, 2018. On arrival at the farm, the mare was found recumbent with a heart rate of 60 beats per minute, evidence of struggle and profuse watery diarrhoea. An oral examination revealed a capillary refill time of three seconds and severe gingival and glossal ulcers. The ulcers were filled with seed heads with evidence of chronicity. The mare was determined to have a gas-distended colon on rectal examination and was humanely euthanised due to financial constraints. The mare was submitted for postmortem examination. No ulcers or grass awns were found in any other area of the gastrointestinal tract. Histopathological examination revealed embedded plant material in the oral lesions, with plant features similar to that reported with foxtail species. Hay samples were submitted for wet chemistry analysis and species identification, and determined to be an inadequate nutritional source for horses.
You need to be a BVA member to continue reading this journals Login or join the BVA today.
LOGIN
JOIN US TODAY