Use of ultrasonography to identify a periocular plant foreign body in a dog
12 Nov 2018
Wait, C., Meekins, J. M., Tucker-Mohl, K., Biller, D.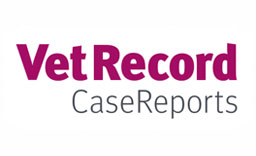 A one-year-old female spayed miniature schnauzer was referred to the Kansas State University Veterinary Health Center Ophthalmology Service for evaluation of chronic purulent discharge and conjunctival hyperaemia of the right eye. Two months before presentation, the dog was treated by its primary veterinarian for grass awn foreign bodies in the periocular area. Three visible grass awns were removed, and an associated superficial corneal ulcer healed without complication. However, ocular discharge and conjunctival hyperaemia persisted. Due to the patient's history and the focal pattern of conjunctival hyperaemia, diagnostic imaging (ultrasound) was recommended to screen for retained plant foreign material. The dog was anaesthetised, and a hyperechoic linear structure was identified in the dorsolateral periocular space on ultrasound examination. The plant material was successfully extracted during a brief conjunctival exploration, and the previously reported clinical signs subsequently resolved over the course of one week.
You need to be a BVA member to continue reading this journals Login or join the BVA today.
LOGIN
JOIN US TODAY