Cerebellar ischaemic infarct: a rare complication of pancreatitis
30 Mar 2019
Hall, H., Valls Sanchez, F., Gardini, A., Corbetta, D., Florey, J.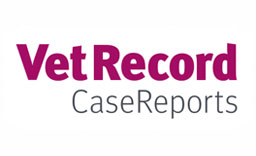 A 12-year-old female neutered Jack Russell terrier was presented for further investigation of an acute two-day history of lethargy, inappetence and vomiting. Mild increase in urea and amylase and positive cPLI (Canine pancreatic lipase immunoreactivity) ELISA were present. Abdominal ultrasound revealed an irregular, heterogeneous and diffusely hypoechoic pancreas. Severe pancreatitis with secondary peritonitis was diagnosed. Supportive treatment was started, but the patient developed paradoxical vestibular syndrome. MRI was declined and the patient was euthanased. On histopathological examination renal infarction with evidence of thrombosis and focal cerebellar infarction were present. It is well documented that a hypercoagulable state is a known complication of severe pancreatitis. To the authors' knowledge this is the first description of suspected thromboembolism secondary to pancreatitis resulting in neurological signs in a dog.
You need to be a BVA member to continue reading this journals Login or join the BVA today.
LOGIN
JOIN US TODAY