Clinical features, anaesthetic management and perioperative complications seen in three horses with pheochromocytoma
30 Mar 2019
Norgate, D. J., Foster, A., Dunkel, B., Spiro, S., Veres-Nyeki, K.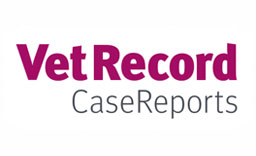 Three horses presenting with colic signs to the Equine Referral Hospital at The Royal Veterinary College underwent general anaesthesia between September 2013 and November 2017 for emergency exploratory laparotomy. No obvious cause for the colic signs was identified in two horses, while a haemoperitoneum was identified in the third. All horses were euthanased within 12 hours of surgery due to deteriorating haemodynamic instability and/or intractable pain. Postmortem examination revealed an adrenal mass in each case, confirmed to be a pheochromocytoma on histopathology. In retrospect, each horse had some hallmark characteristics consistent with a functional pheochromocytoma, including hyperglycaemia and hyperlactataemia. Extremely high packed cell volume (PCV) (>65 per cent) was also identified in two horses, with a high-normal PCV found in the haemoperitoneum case. Perioperative haemodynamic instability was predominantly characterised by episodes of intermittent hypertension and tachycardia.
You need to be a BVA member to continue reading this journals Login or join the BVA today.
LOGIN
JOIN US TODAY