Congenital cleft sternum with diaphragmatic hernia and radial hemimelia in a kitten
06 Feb 2019
Weber, L. A., Phillips, H.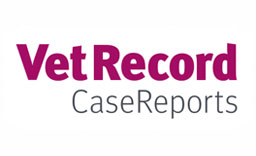 A four-month-old male intact domestic shorthair kitten was presented for deformity of the right thoracic limb. Severe carpal varus was noted, and palpation of the ventral thorax revealed the sternum to be divided caudally. The heartbeat was palpable beneath the skin in the expanse created by the sternal division. Incomplete caudal sternal cleft with diaphragmatic hernia was diagnosed. At surgery, herniation of the gall bladder and portions of the liver into the thoracic cavity were noted. The medial aspects of the sternal bars were abraded with rongeurs, and interrupted sutures were placed around the sternebrae to close the thorax following placement of a thoracostomy tube. The diaphragm and abdomen were also closed primarily. The kitten died postoperatively and was found to have acute pulmonary and cardiac lesions. Primary surgical closure is possible, and patients should be monitored carefully in the postoperative period.
You need to be a BVA member to continue reading this journals Login or join the BVA today.
LOGIN
JOIN US TODAY