Intradural-extramedullary osteosarcoma in a dog
01 Mar 2019
Bonanno, G., Gomes, S. A., Dawson, S., Bass, J., Lowrie, M.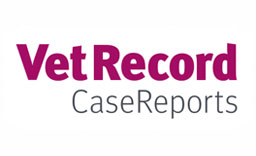 An 11-year-old male crossbreed dog was referred for progressive left forelimb lameness and proprioceptive deficits over four weeks. Neurolocalisation was consistent with a cervical lesion affecting the C1–C5 spinal segments. CT revealed a hyperattenuating lesion within the vertebral column. MRI revealed a suspected intradural-extramedullary, oval-shaped lesion displacing the spinal parenchyma. Surgical exploration confirmed this was an intradural lesion and so a durotomy was performed to remove the mass. The histopathological diagnosis was an extradural osteosarcoma. Chemotherapy was commenced and despite initial improvement, euthanasia was performed following acute deterioration two months later.
This is the first report of an extraskeletal and intradural-extramedullary spinal osteosarcoma in a dog. Extraskeletal osteosarcoma should be included as a differential diagnosis for an intradural-extramedullary lesion in dogs, particularly in the presence of suspected mineralised material on advanced imaging. As reported in human medicine, prognosis appears to be grave in dogs.
You need to be a BVA member to continue reading this journals Login or join the BVA today.
LOGIN
JOIN US TODAY