Leishmaniosis causing chronic diarrhoea in a dog
08 Mar 2019
Ward, P. M., McLauchlan, G., Millins, C., Mullen, D., McBrearty, A. R.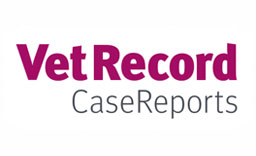 A 10-year-old, male, neutered Podenco Canario was presented for investigation of chronic mixed intestinal diarrhoea and weight loss. The dog was imported from Spain seven years earlier and had not subsequently travelled outside of the UK. Clinical investigations also revealed a lingual mass, right hindlimb lameness, splenomegaly, a non-regenerative anaemia and hyperglobulinaemia. Histopathology of endoscopic gastrointestinal biopsies revealed neutrophilic and histiocytic enteritis and colitis with high numbers of intracytoplasmic organisms suggestive of Leishmania. Similar organisms were identified on cytology from the spleen, bone marrow aspirate and lingual mass. Leishmania PCR was positive on a bone marrow aspirate. Clinical signs resolved with miltefosine and allopurinol treatment. This case describes an atypical presentation of leishmaniosis with chronic diarrhoea which presented for veterinary investigation and treatment, seven years after moving from a Leishmania endemic area to the UK.
You need to be a BVA member to continue reading this journals Login or join the BVA today.
LOGIN
JOIN US TODAY