Leishmaniosis manifesting as osteomyelitis and monoarthritis in a dog and outcome following treatment with miltefosine and allopurinol
17 Mar 2019
König, M. L., Howard, J., Schmidhalter, M., Hentrich, B., Hettlich, B.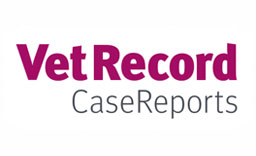 A nine-year-old male, neutered, mixed-breed dog was presented with chronic left pelvic limb lameness, moderate muscular atrophy and pain on palpation of the lateral femoral condyle. No other clinical abnormalities were found except for two subcutaneous tarsal nodules. Radiographs and CT revealed severe stifle monoarthropathy and distal femoral osteolysis without periosteal proliferation, mild popliteal lymphadenopathy and several small splenic nodules. Leishmaniosis was diagnosed on cytology of the lymph nodes and spleen, serology and PCR of the synovial membrane, and bone biopsies. Complete clinical remission was achieved with oral miltefosine and allopurinol. The areas of distal femur bone loss remained radiographically and on CT. Monarthritis and osteomyelitis without systemic clinical signs or clinicopathological alterations have rarely been reported with canine leishmaniosis. Leishmaniosis should be considered even if radiographic signs are atypical. Treatment with miltefosine and allopurinol was successful in achieving clinical remission. Previous areas of bone loss remained quiescent without bone infilling.
You need to be a BVA member to continue reading this journals Login or join the BVA today.
LOGIN
JOIN US TODAY