Management and resolution of acquired myasthenia gravis in a carbimazole-treated hyperthyroid domestic shorthair cat
08 Mar 2019
Ellis, J., Tappin, S.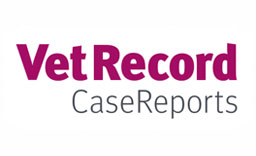 An 11-year-old male neutered domestic shorthair cat presented with acute onset signs of generalised weakness and neck ventroflexion. He had been diagnosed with hyperthyroidism two months previously and been treated with daily carbimazole. No haematological, biochemical or electrolyte abnormalities were evident to explain his signs; thoracic and abdominal imaging was unremarkable. A positive response to a neostigmine response test and high acetylcholine receptor antibody titre were consistent with a diagnosis of myasthenia gravis. The temporal association with treatment of hyperthyroidism suggested acquired myasthenia gravis secondary to carbimazole, and the cat underwent successful surgery for thyroidectomy to avoid the need for ongoing medical therapy. Acetylcholine receptor antibody levels remained high four months later before returning to normal after a further two months. Clinical signs were completely controlled with pyridostigmine, which was tapered and eventually withdrawn, and the cat returned to a normal quality of life.
You need to be a BVA member to continue reading this journals Login or join the BVA today.
LOGIN
JOIN US TODAY