Uncommon thalamic metastasis of an osteosarcoma causing central diabetes insipidus in a young barsoi dog
13 Jan 2019
Dettwiler, M., Borel, N., Schäfer, S., Ivan, D., Hilbe, M.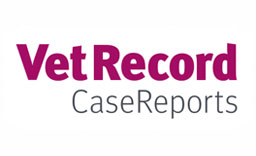 A five-year-old male barsoi dog presented with lameness of the left hindlimb. Radiographs, CT and MRI studies revealed a mono-ostotic aggressive bone lesion in the proximal tibial metaphysis expanding into the epiphysis, complicated by a pathological fracture. Conservative treatment was pursued. Two months later, the dog was presented again to our clinic, now in comatose state. Brain MRI detected a large intra-axial space-occupying lesion in the thalamic region. The dog was euthanased. Necropsy revealed a mass in the left proximal tibial epiphysis and metaphysis and a bony mass in the pituitary region compressing the surrounding nervous tissue. Histologically, both masses were diagnosed as osteosarcoma, most likely chondroblastic type. The metastatic brain mass infiltrated the thalamus, hypothalamus and pituitary stalk, causing disruption of ADH synthesis and/or transport. This is an uncommon case of a clinically manifest central diabetes insipidus caused by a metastatic osteosarcoma.
You need to be a BVA member to continue reading this journals Login or join the BVA today.
LOGIN
JOIN US TODAY