Cervical diskospondylitis in a Tennessee walking horse mare
14 Jun 2019
Olivarez, J., Graves, M. T., Morandi, F.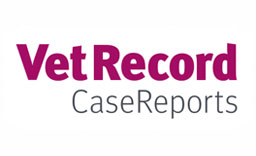 A 17-year-old Tennessee Walking Horse mare presented for an approximate four-week history of hindlimb weakness and suspect laminitis, as perceived by the owner. When examined by a veterinarian, no lameness was found; rather significant cervical pain was detected. Cervical radiographs revealed abnormalities consistent with diskospondylitis at C5-C6. The patient was placed on oral trimethoprim-sulfamethoxazole (20 mg/kg orally twice a day) to be continued for two to three months, as well as firocoxib (0.3 mg/kg orally once a day). After two days of treatment, gabapentin (10 mg/kg orally twice a day) was added for pain management. Two days following, fentanyl patches (100 mcg/hour every 36 hours) were placed to further alleviate pain. Acupuncture was also used for pain management. The patient was released two weeks after initial presentation, with marked improvement. At the time of this report, two months after admission, the mare continues to show marked improvement in mobility and range of motion.
You need to be a BVA member to continue reading this journals Login or join the BVA today.
LOGIN
JOIN US TODAY