Fatal pulmonary thromboembolism in a two-year-old dog receiving long-term corticosteroid therapy
28 Apr 2019
Dorrestein, E., Peda, A., Thrall, M. A., Illanes, O.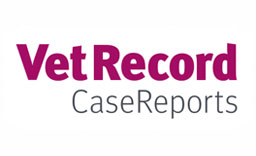 A two-year-old female dog unexpectedly collapsed and was presented to Ross University Veterinary Clinic. On arrival, it appeared normal and was kept overnight for monitoring and further diagnostic assessment. In the early morning the dog collapsed again, arrested and died. The dog had a long-term history of putative immune-mediated thrombocytopenia and relapsing allergic dermatitis and was being treated with prednisone. On postmortem examination, a large thrombus almost completely obliterated the lumen of the pulmonary trunk and extended into the pulmonary arteries. Chronic corticosteroid treatment, even at low doses, can have severe detrimental consequences that may not be clinically noticeable. Pulmonary thromboembolism is a rare but known consequence of hyperadrenocorticism in dogs, but acute fatal cardiorespiratory failure has not been previously described in iatrogenic Cushing's. Clinicians should be aware of this and other potentially adverse effects of prednisone therapy and use caution when prescribing corticosteroids.
You need to be a BVA member to continue reading this journals Login or join the BVA today.
LOGIN
JOIN US TODAY