Supracollicular fluid accumulation type 3 with concurrent hydrocephalus in a five-month-old crossbreed dog
06 May 2019
Martin, S., Shivapour, S., Beltran, E.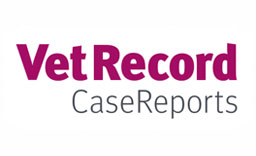 A five-month-old crossbreed dog was referred with a 36-hour history of cervical hyperaesthesia. CT and MRI of the head and neck identified supracollicular fluid accumulation type 3 with concurrent hydrocephalus, syringohydromyelia and cerebellar herniation. Medical treatment consisting of analgesia and mannitol was instigated, and once the patient was stabilised a supracollicular-peritoneal shunt system was placed. The patient initially responded very well to this treatment. Six days postoperatively, the patient sustained disconnection of the shunt system at the level of the pressure valve and distal shunt tubing. Revision surgery to repair the shunt was performed without further complication. The dog returned to being neurologically normal within four weeks. One year postoperatively, the patient remains neurologically normal with no further clinical signs nor shunt system complications.
You need to be a BVA member to continue reading this journals Login or join the BVA today.
LOGIN
JOIN US TODAY