Urinary incontinence in a young British blue cat with suspected dilatation of the ventricle terminalis, spina bifida cystica and failure of fusion of the sacral vertebrae
11 Apr 2019
Swallow, A., Freeman, P., Alves, L.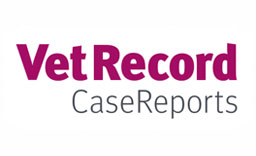 A seven-month-old, male neutered British blue cat presented for investigation of lifelong urinary incontinence. Clinical examination documented a flaccid tail which was deep pain-negative, and the urinary bladder was easily expressed. Voluntary urination was possible. An abnormal hair whorl was noted over the tail base. Pelvic radiography noted absent dorsal lamina to the caudal sacral and proximal caudal vertebrae. The cranial S1/S2 vertebrae were incompletely fused. Haematology, biochemistry and urinalysis were unremarkable. Ultrasonographic examination of the urinary tract was unremarkable, as was an intravenous urogram. MRI documented a large, fluid-filled cavity at the level of the conus medullaris compatible with dilatation of the ventricle terminalis or syrinx. Spina bifida cystica was also present at Cd5/Cd6. The incontinence was noted to improve with time and skeletal maturity before acutely exacerbating. The owners subsequently elected for tail amputation, resulting in a marked improvement in urinary incontinence.
You need to be a BVA member to continue reading this journals Login or join the BVA today.
LOGIN
JOIN US TODAY