Chloramphenicol-associated megaoesophagus in a dog
31 Jul 2019
Bishop, B., Walton, S.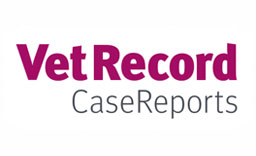 A three-year-old spayed female Belgian malinois that was being treated with chloramphenicol for Corynebacterium-associated encrusted cystitis for seven weeks was evaluated for regurgitation, change in bark, hindlimb ataxia and anorexia. Thoracic radiographs revealed a severely, diffusely dilated oesophagus. Acetylcholine receptor antibody testing was negative. Chloramphenicol administration was discontinued and within five weeks of discontinuing the medication, the regurgitation ceased, ataxia resolved and appetite returned to normal. Thoracic radiographs were performed four months later revealing resolution of the previously observed megaoesophagus. This case suggests that chloramphenicol may be associated with the development of reversible megaoesophagus and peripheral neurotoxicity in dogs.
You need to be a BVA member to continue reading this journals Login or join the BVA today.
LOGIN
JOIN US TODAY