Clinical spirocercosis in a dog in the UK
03 Sep 2019
McKenna, M., Bristow, P. C., Suarez-Bonnet, A., Fox, M. T., Glanemann, B.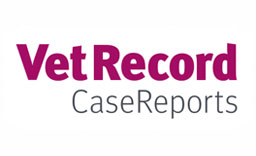 A 2-year-old female neutered crossbreed dog was presented for evaluation of a 3-day history of haematemesis, melaena and hyporexia. The dog had been imported from a rescue centre in Hungary 4 months prior to presentation. Abdominal CT revealed the presence of a 3 cmx3 cmx4 cm diameter heterogenous intraluminal mass lesion in the gastric cardia, surrounding the ostium of the cardia and continuous with the distal oesophagus. The mass lesion was subsequently surgically resected. Histopathology of the gastric mass lesion was consistent with a Spirocerca lupi granuloma. The patient unfortunately developed a pyothorax and suffered cardiopulmonary arrest resulting in death 2 days postoperatively. To the authors' knowledge, this is the first reported case of clinical spirocercosis reported in a dog in the UK.
You need to be a BVA member to continue reading this journals Login or join the BVA today.
LOGIN
JOIN US TODAY