Delayed forebrain syndrome due to presumptive traumatic intranasal meningoencephalocele in a cat
13 Sep 2019
Liatis, T., De Stefani, A., Mantis, P., Cherubini, G. B.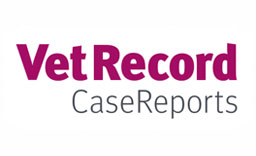 A 3-year-old male neutered domestic shorthair cat was referred with 1-month history of three generalised tonic-clonic epileptic seizures and left-sided thoracic limb knuckling. Nine months previously, the cat was bitten on the right upper palpebral region without manifesting neurological signs. On admission, physical and neurological examination revealed left-sided postural reaction deficits and absent menace response. Thus, a right-forebrain neurolocalisation was reached. Haematology, biochemistry, bile acid stimulation test, infectious diseases serology and cerebrospinal fluid analysis were unremarkable. Cerebral MRI revealed extension of brain and meninges into the right frontal sinus. Final diagnosis of a right-sided traumatic frontoethmoidal meningoencephalocele was made. The cat remained seizure free under phenobarbital treatment with residual left-sided postural reaction deficits at 9 months follow-up. This is the first report of presumptive traumatic meningoencephalocele in a cat, which emphasises the importance of complete neurological investigation and regular long-term follow-up checks in patients with historical head trauma despite the absence of initial neurological signs.
You need to be a BVA member to continue reading this journals Login or join the BVA today.
LOGIN
JOIN US TODAY