Duodenal ganglioneuromatosis causing common bile duct obstruction in a dog
05 Jul 2019
Deprez, P., Grand, J.-G., Harran, N.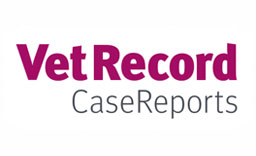 A 3-year-old intact female labrador retriever dog was presented for anorexia, weight loss and vomiting. Abdominal ultrasonography revealed a mass of the descending duodenum involving the major duodenal papilla with loss of the normal intestinal wall layering. The distal part of the common bile duct was circumferentially thickened obliterating its lumen and causing extrahepatic biliary obstruction. Exploratory laparotomy was undertaken, total descending duodenum excision with gastrojejunostomy, cholecystojejunostomy and pancreaticojejunostomy procedures were performed. The dog died 3 days postoperatively. Histopathological and immunohistochemistry examinations of the specimens from the duodenectomy demonstrated multinodular to diffuse intestinal ganglioneuromatosis. This is the first reported case of an intestinal ganglioneuromatosis, a rare hyperplastic proliferation of ganglion cells and nerves of the enteric autonomic nervous system, involving the duodenum and causing extrahepatic biliary obstruction.
You need to be a BVA member to continue reading this journals Login or join the BVA today.
LOGIN
JOIN US TODAY