Life-threatening hyperkalaemia in a five-year-old rottweiler undergoing bilateral elbow arthroscopy
01 Oct 2019
Boustead, K. J., Zeiler, G.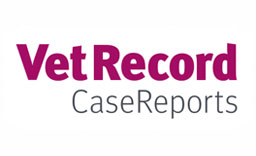 A five-year-old aggressive female spayed rottweiler presenting for bilateral elbow arthroscopy developed an acute life-threatening hyperkalaemia intraoperatively under general anaesthesia. The dog was premedicated with a combination of ketamine (9.5 mg/kg), medetomidine (0.033 mg/kg) and morphine (0.3 mg/kg) intramuscularly. The effect of the premedication was considered moderate. Anaesthesia was induced 30 minutes later with intravenous propofol and maintained with isoflurane in oxygen and air. Profound bradycardia (heart rate falling from 95 to 33 beats per minute) occurred at 140 minutes after administering the premedication. Initially, high vagal tone was suspected and anticholinergic drugs (atropine and glycopyrrolate) were administered with minimal effect. The bradycardia was permanently corrected with epinephrine and atipamezole treatment. A definitive diagnosis of hyperkalaemia was made postoperatively on analysis of serum samples collected intraoperatively. This case report discusses the potential causes of hyperkalaemia in this case and other veterinary reports using similar drug combinations.
You need to be a BVA member to continue reading this journals Login or join the BVA today.
LOGIN
JOIN US TODAY