Novel peritoneopericardial diaphragmatic hernia in a dog
30 Aug 2019
Khan, S., Sajik, D., Calvo, I., Phillips, A.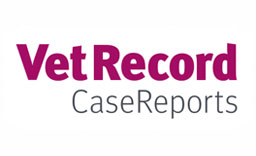 A 23-month-old German shepherd dog (GSD) with chronic intermittent gastrointestinal signs presented following acute deterioration compatible with gastrointestinal obstruction and suspected peritoneopericardial diaphragmatic hernia (PPDH). Physical examination revealed depression, abdominal pain, decreased pulse quality, reduced heart sounds and tachypnoea with a shallow breathing pattern. Radiography confirmed PPDH and a granular, 1.3 cm mineral opacity cranial to the cardiac silhouette within the cranioventral thorax. Coeliotomy and median sternotomy revealed strangulated jejunum within the cranial mediastinum, cranial to the pericardium. This was resected and herniorrhaphy was performed. Postoperatively the dog became normal. Midline fusion defects, including the pericardium, can be associated with PPDH and in such cases sternotomy may be required. This is the first report of surgical management of strangulated intestine secondary to an initially conservatively managed PPDH. Mineral opacity on radiography associated with PPDH may represent chronic partial obstruction. This possibly represents a second GSD with Cantrell's pentalogy.
You need to be a BVA member to continue reading this journals Login or join the BVA today.
LOGIN
JOIN US TODAY