Osteogenesis and dentinogenesis imperfecta in a four-month-old English mastiff
05 Jul 2019
Gold, R., Pool, R. R., Edwards, E. E.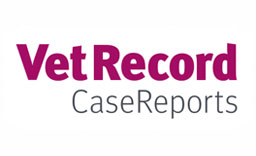 Osteogenesis imperfecta, also known as 'brittle bone disease', is an inherited connective tissue disorder caused by defects in type 1 collagen. The disease results in low bone mass and reduced bone strength, often manifesting as multiple intrauterine fractures, skeletal abnormalities and death before adulthood. A four-month-old, female entire, English mastiff was presented for multiple limb fractures. Due to a poor prognosis, euthanasia was elected. Gross examination revealed diffuse osteopenia with multiple chronic and acute skeletal fractures. All adult teeth were undersized and opalescent, and multiple deciduous incisors were retained. Histopathology of the long bones demonstrated severe, diffuse osteopenia with retention of non-ossified cartilage spicules in the secondary spongiosa. The incisor teeth had multifocal disorganisation of odontoblasts and ameloblasts that exhibited piling (dysplasia) and hypoplasia of the dentin. Diagnoses of osteogenesis imperfecta and dentinogenesis imperfecta were made. Osteogenesis imperfecta should be considered as a cause of diffuse osteopenia in young dogs.
You need to be a BVA member to continue reading this journals Login or join the BVA today.
LOGIN
JOIN US TODAY