Thoracic meningomyelocele associated with spina bifida in a Malinois dog
22 Aug 2019
Musso, C., Bismuth, C., Cauzinille, L.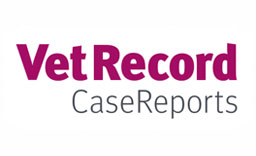 An 8-month-old male Malinois dog was presented for progressive chronic pelvic limbs ataxia, paraparesis, arched back since ambulation associated with mild urinary and faecal incontinence. Clinical evaluation revealed a dorsocaudal thoracic spine non-healing wound with a fistula from which a clear fluid leaked. Neurological examination was compatible with a T3-L3 spinal cord lesion. CT myelography showed a T11-T12 spina bifida associated with a meningomyelocele with a fistula tract to the skin (spina bifida aperta). An MRI revealed a syringohydromyelia cranially and caudally to the meningomyelocele. Surgical correction involved removal of the fistula up to the dura mater and closure. A 4 and 12 months clinical and MRI follow up revealed a good locomotion improvement with residual mild ataxia without incontinence. MRI showed no relapse of the meningomyelocele but persistent although reduced syringohydromyelia.
You need to be a BVA member to continue reading this journals Login or join the BVA today.
LOGIN
JOIN US TODAY