Arthritis, panuveitis and hyperaesthesia associated with Borrelia afzelii infection in a warmblood gelding
15 Dec 2019
Sommerauer, S., Blohm, K.-O., Spergser, J., Buchner, H. H. F.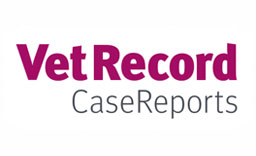 A 13-year-old warmblood gelding presented with a history of lameness, muscle atrophy and weight loss of 3 months. The horse demonstrated extensive hyperaesthesia over the left dorsal trunk, marked effusion of several joints, laryngitis and a dampened mental attitude. Synovial fluid analysis revealed arthritis of the left tarsocrural joint, being PCR-positive for Borreliaafzelii DNA. Subsequently, mild anterior uveitis of the right and severe panuveitis of the left eye with B. afzelii PCR-positive aqueous and vitreous humour, respectively, were diagnosed. Treatment included arthroscopy of the left tarsocrural joint, oral doxycycline administration for 6 weeks, ophthalmic and systemic anti-inflammatory therapy and left intravitreal preservative-free gentamicin (4 mg) injection. After initial improvement, the gelding's clinical signs deteriorated resulting in peracute recumbency and sudden death 12 months later. Lyme borreliosis should be considered as differential diagnosis in complex cases of equine lameness, particularly when accompanied by hyperaesthesia and bilateral uveitis.
You need to be a BVA member to continue reading this journals Login or join the BVA today.
LOGIN
JOIN US TODAY