Clinical, diagnostic imaging, surgical findings and long-term outcome in a Cavalier King Charles Spaniel with thoracolumbar vertebral articular process hyperplasia
13 Oct 2019
Stabile, F., Brash, R., De Risio, L.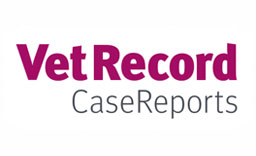 A 2-year-old female spayed Cavalier King Charles Spaniel presented with 10-day history of progressive painful T3–L3 myelopathy. MRI of the spine revealed an extradural dorsal spinal cord compression at the level of T12–T13 vertebrae caused by hyperplasia of the caudal vertebral articular process (CVAP) of T12 vertebra. Similar changes were noticed at the level of the T13–L1 vertebrae, not causing spinal cord compression. In order to plan surgical decompression, CT of the spine was performed. This revealed thickened T12 dorsal lamina, hyperplastic T12 CVAP, and narrowed and elongated T13 VAP. The patient underwent T12–T13 dorsal laminectomy and spinal cord decompression by removal of the hyperplastic CVAP of T12. Postoperative 6-year follow-up revealed a normal neurological examination. A combination of MRI and CT allowed optimal treatment selection and surgical planning for CVAP hyperplasia. Surgical treatment by dorsal laminectomy provided successful long-term outcome.
You need to be a BVA member to continue reading this journals Login or join the BVA today.
LOGIN
JOIN US TODAY