Cutaneous manifestation of Mycobacterium avium complex infection in an Australian shepherd dog
02 Dec 2019
Ramos, S. J., Woodward, M. C., Wakamatsu, N., Bolin, S. R., Friedman, M. L.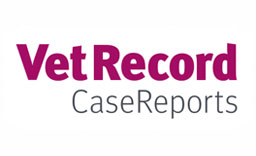 A three-year-old male neutered Australian shepherd dog presented with a one-week history of diffuse ulcerative cutaneous nodules. On physical examination the dog had generalised lymphadenomegaly with multiple well-circumscribed subcutaneous to dermal nodules with central haemorrhagic ulceration affecting the face, dorsum, dorsal cervical area and abdomen. Histopathological findings revealed severe suppurative and pyogranulomatous dermatitis and panniculitis with acid-fast pleomorphic bacterium present. Mycobacterial culture of tissue was negative. Repeated PCR assays on formalin-fixed tissue followed by nucleic acid sequencing confirmed the presence of Mycobacterium avium complex. Treatment was initiated with clarithromycin (10.9 mg/kg orally every 12 hours) and rifampin (13.2 mg/kg orally every 24 hours) and resulted in clinical resolution of the lesions within two weeks. Treatment was continued for six months and then discontinued. Seventeen months following treatment discontinuation, the dog was clinically and systemically well with no relapse noted.
You need to be a BVA member to continue reading this journals Login or join the BVA today.
LOGIN
JOIN US TODAY