High-grade astrocytoma with ventricular invasion in a dog
02 Dec 2019
Pupin, R. C., Rissi, D. R., Gomes, D. C., Gimelli, A., Palumbo, M. I. P.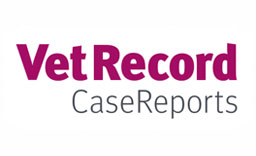 A 13-year-old female German Shepherd dog was euthanised and submitted to necropsy after a 7-month history of prolonged recumbency and vocalisation. Gross anatomical changes consisted of a well-demarcated, 3.5x1.5 cm, soft red mass that effaced the right lateral ventricle and compressed the adjacent neuroparenchyma. Histologically, elongate neoplastic cells with astrocytic morphology were arranged in short bundles and streams supported by a neuropil-like stroma. Neoplastic cells were immunopositive for glial fibrillar acidic protein (GFAP) and oligodendrocyte transcription factor 2 (Olig2), and immunonegative for e-cadherin and pancytokeratin. Histological and immunohistochemical features were consistent with a high-grade astrocytoma with ventricular invasion, a rare feature of astrocytic tumours in dogs.
You need to be a BVA member to continue reading this journals Login or join the BVA today.
LOGIN
JOIN US TODAY